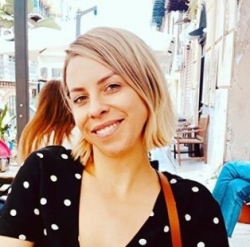 Latest posts by Jodie Chiffey
(see all)
It's no longer about The Lion King like it was when I was a kid; instead, it's all about the Lion Guard. If you have children like mine, who are totally obsessed with everything Lion Guard, then you will already know that there is a lot on the market regarding toys and entertainment.
Finding that perfect toy when it comes to Disney themes can be tricky, as I think we've all been there and spent a fortune on something, only to later realize it's either not worth the money or it doesn't get played with.
While looking at the choices of Lion Guard toys, I found that they haven't come very far in terms of technicality, and they are all aimed at the much younger crowd. Even the most expensive toys were still very basic in my eyes.
So I thought I would see what my kids had to say on the subject and what they thought of each product, and below are the results of our combined opinions.
During this guide, you will find out which toys were the most popular with my boys and which I judged as the best when it came to value for money and the most durable.
The Top 5 Lion Guard Toys At A Glance
Lion Guard Deluxe – 10 Pack of Collectible Figures – My Top Pick! and Lion Guard 5 Pack Figurines – Age 3 and Up, best for little kids!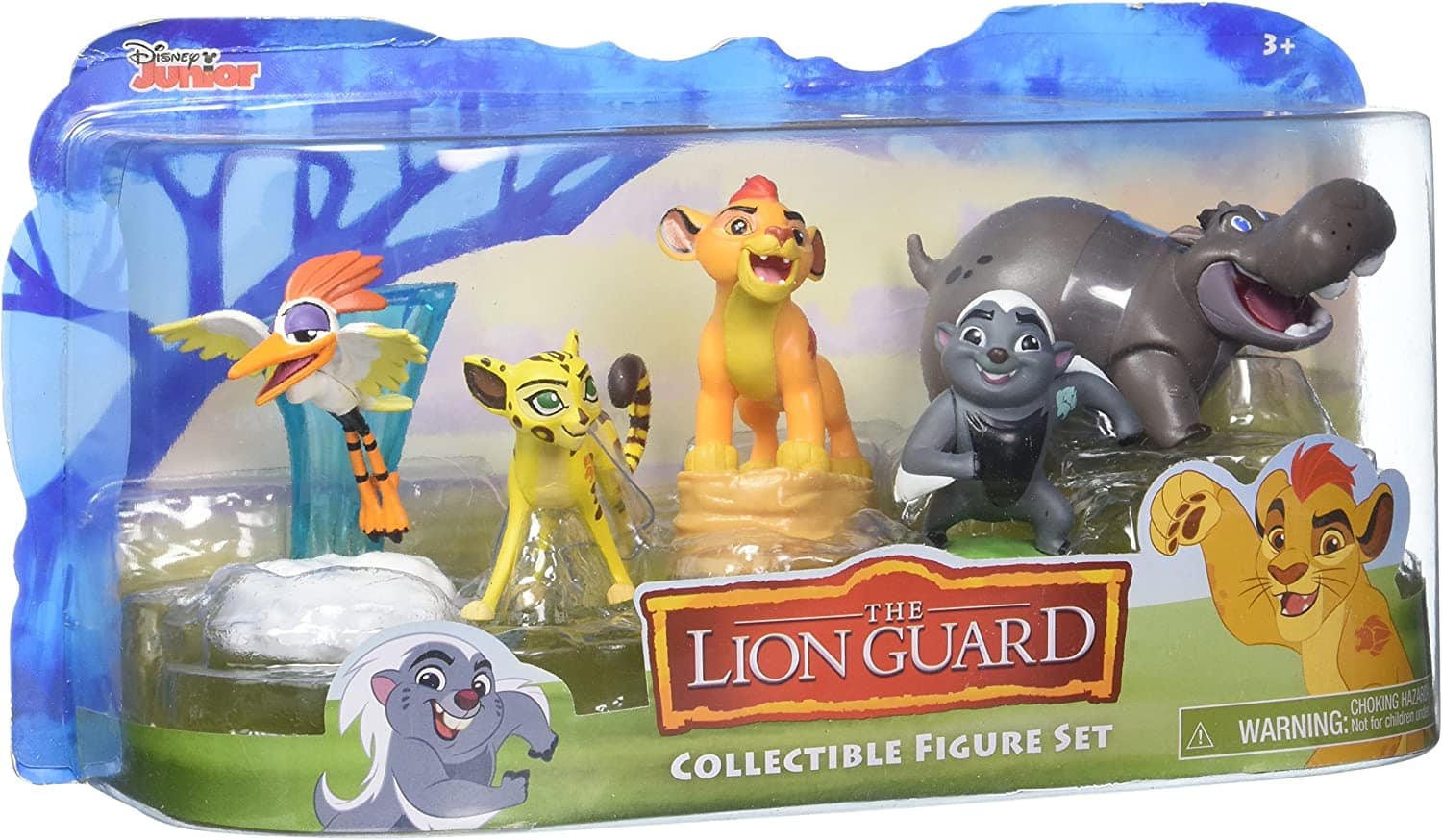 Bottom Line Up Front
The product which came up top between the boys and me was The Lion Guard Deluxe Pack of Collectable Figures.
One of the main reasons this set is the most popular are that it includes all of the main characters from the program in one package.
I also liked the fact that when my boys become a bit too old to play with these figurines, they can be kept as collector's items. I think this could also be good if you want to buy something for kids who have outgrown playing with toys and instead want something they can keep and look after.
How I Selected My Favorite Lion Guard Toys
When conducting my research on these products, there were a couple of things I thought were essential to take into consideration.
#1 Educational
Personally, I like it when I buy toys that have educational factors, as well as being good fun. However, when it comes to Lion Guard and Lion King toys, there isn't a tremendous amount of choice aimed at education.
However, this all depends on how your child plays with their toys because it has been proven that all forms of playing can benefit your child's mental stimulation and cognitive skills.
#2 Fun
I think every young child's priority when playing with toys is that they are having fun.
I know that one of my boys, in particular, is drawn to anything colorful, and the other won't bat an eyelid at anything that doesn't make noises, move, or can be taken apart.
This is one reason I thought it would be a good idea to get both of their opinions. After all, no two children are the same, and what might be great for one could be tiresome to another.
My Product Criteria
Of course, there were some other things I considered before purchasing any of these Lion Guard Toys:
Toy Type: Kids have very different points of view when it comes to what they find entertaining, which is why I've included a variety of options, including collectibles, plush toys, and action toys.
Age: I've tried to capture all the details of my recommendations so that you can decide for yourself whether it's suitable for your child based on their age. Just remember, some toys are not safe for really young children and toddlers.
Durability: If your kids are anything like mine, they don't exactly handle everything very delicately. So you will be glad to hear that I have only selected products that are long-lasting.
Consumer Feedback: As well as my own opinion and the views of my Lion Guard-obsessed boys, it was also essential to see what other people had to say. Hence why I only selected products with overall positive feedback from other consumers.
Price: You will likely want to see different prices if you're anything like me. So I have included a bit of everything because while budget-friendly toys are always appealing, we want to splash out and buy our little ones something a bit more special now and then.
My 5 Best Lion Guard Toys

We decided that the Lion Guard Deluxe set was our favorite out of everything we reviewed.
The first thing that drew us to it was the varied selection in the pack, the bright colors, and the fact that you have all of the main cast in one go.
I could tell by looking at the figures through the packaging that they were extremely high-quality and well made. They felt sturdy and seemed they could handle a lot of hands-on playing.
I found the price reasonable, though something I would purchase for a special occasion rather than a rainy day. The set is $32.99, but you can see where the money is spent in terms of actual toy quality. There are cheaper versions available from other brands that copy the theme, although you don't receive as many characters, and the quality of the products is nowhere near as good.
One thing I noticed was that two of the characters in the pack were not the same as the ones advertised in the photograph advertised online. Luckily this wasn't a problem for my boys, but it could be an issue for some. Reading the reviews, I found that other people had come across the same experience. But unless your child is a big fan of Rafiki, it shouldn't cause too much drama, though something to keep in mind.
Another thing I noticed is that the set doesn't come in the display box shown in the picture. Instead, each figure comes individually wrapped inside a box. Again, personally, I didn't find this a significant cause for concern, but I thought it was worth mentioning so that you know what you're getting.
I rated this as suitable for all ages because they don't have to be used as a toy but can also be displayed as collector items for the older Lion Guard fans out there.
Pros
Well made
Reasonable price
Multi-purpose
It suits all age ranges
Includes many Lion Guard characters
Durable
Collector's item
Cons
Contradicting advert regarding contents
No display box or stands for figures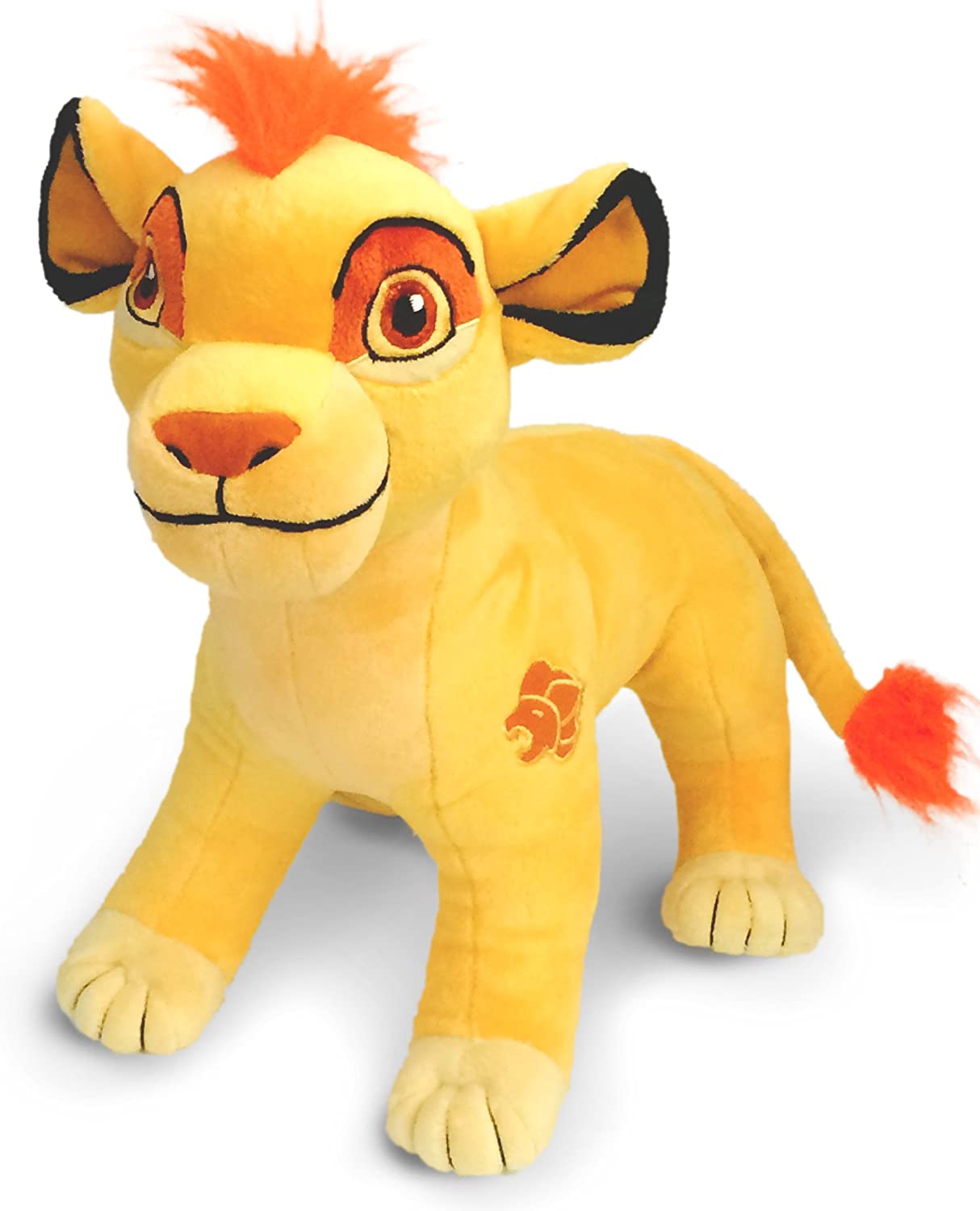 One of my personal favorites, out of everything we looked at, was the Kion Plush Stuffed Pillow Buddy.
Made by the brand Jay Franco, it is an official Disney product, which already tells me that the quality should be great.
This super soft plush toy is multi-purpose and portable. For example, one of my boys, in particular, loves to have it in the car and use it as a pillow for long journeys. It's also the perfect size for packing into a suitcase if you want to take it on vacation.
Regarding the age range, personally, I think it's suitable for all ages. It has no loose parts such as zips or stuck-on eyes, meaning there is no choking hazard for little ones. It is also an excellent product for those tweenies who still collect plush toys.
If your child is a die-hard Lion Guard fan, you can go all out and get the matching bed set and accessories from this brand.
You might be concerned about sticky fingers when buying plush toys. But don't worry, the high-materiel of this toy can handle multiple rounds in the washing machine. Just make sure you read the label.
The price is also great when considering the quality, durability, and branding.
There are many other choices when it comes to characters too, so if your children are fans of The Hulk or Elmo, for example, then you can continue to grow their collection.
Pros
Very high-quality
Suitable for all ages
Comfortable
Multi-purpose
Can be added to as a collection
Value for money
Durable
Machine washable
Cons
It can be easily damaged if not handled correctly.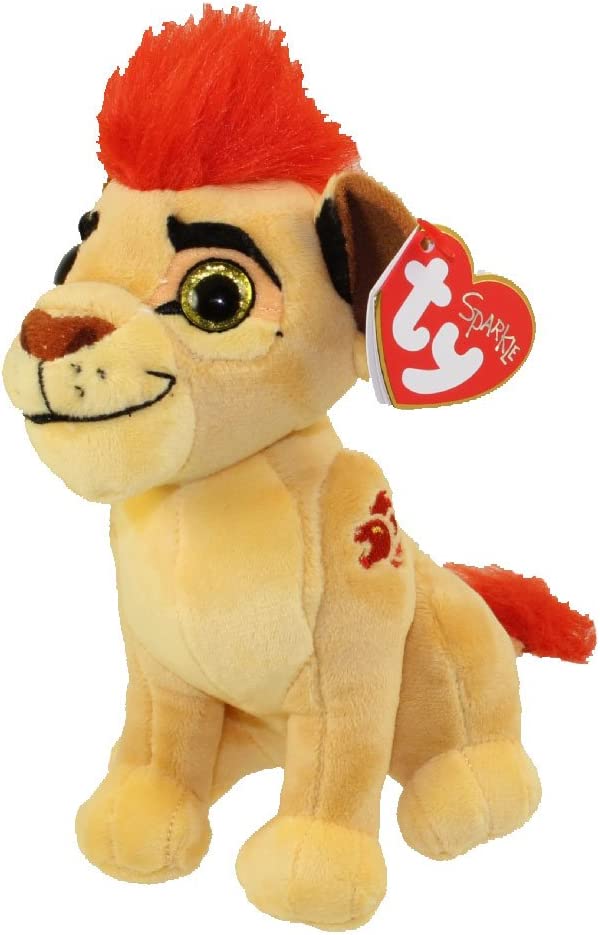 I just had to include this Ty beanie baby plush in my list, mainly because both my sons love them. Even if I collect them myself, whenever we see a new one on the market, we have to check it out.
Being another collector's item, this is an excellent choice if you want something you can add to in the future because there are many options. It's never-ending. It also means it's something that you continue to grow as your children grow older. For example, you can also buy Frozen and Minnie Mouse products and many others.
One thing is, because they are a collectors thing, a lot of people don't want their children to play with them, and it's advised to keep the tags on, but hey, it's each to their own, and if you want to let your child play with them, go for it.
They're reasonably low in price, another great reason to start a collection, and the quality is always fantastic, as with all Ty products.
These products are mainly aimed at older children, mostly because they contain glass eyes that could easily come off if pulled and are filled with beans, which can spill out if the toy is ripped. These are obviously massive choking hazards.
Pros
Good-quality
Trusted brand
Collector's item
Loads to collect
Great value
Durable
Cons
Not suitable for babies and toddlers

The Lion Guard Figurine 5 Pack is an excellent choice if you don't want to pay the full price for our top pick. This set is half the price of the one I mentioned previously, but of course, you only get half the number of characters.
The set comprises five individual character pieces, Kion, Bunga, Fuli, Beshte, and Ono. The figures are 3″ in height, each in different action poses to replicate their characters in the show.
One thing that stood out in particular to me was the high quality of the products themselves.
One of my sons was quite frustrated that Kion is attached to a base, like a rock, and he can't be detached from it. This just means that any gameplay is slightly compromised because he has to be permanently stood on a rock. This might not bother some, but we thought it would be better if he could be removed from the stand.
These are also suitable for all ages. So great for kids three and up, and also perfect as a display piece if your child is a collector.
Overall, we decided there were more pros to cons than this set, and personally, I thought it was well worth the money.
Pros
Suitable for all ages
Good value for money
Well made
Safe
Durable
Option to grow collection with add-ons
Cons
Some figures stuck to mounts
Figures don't move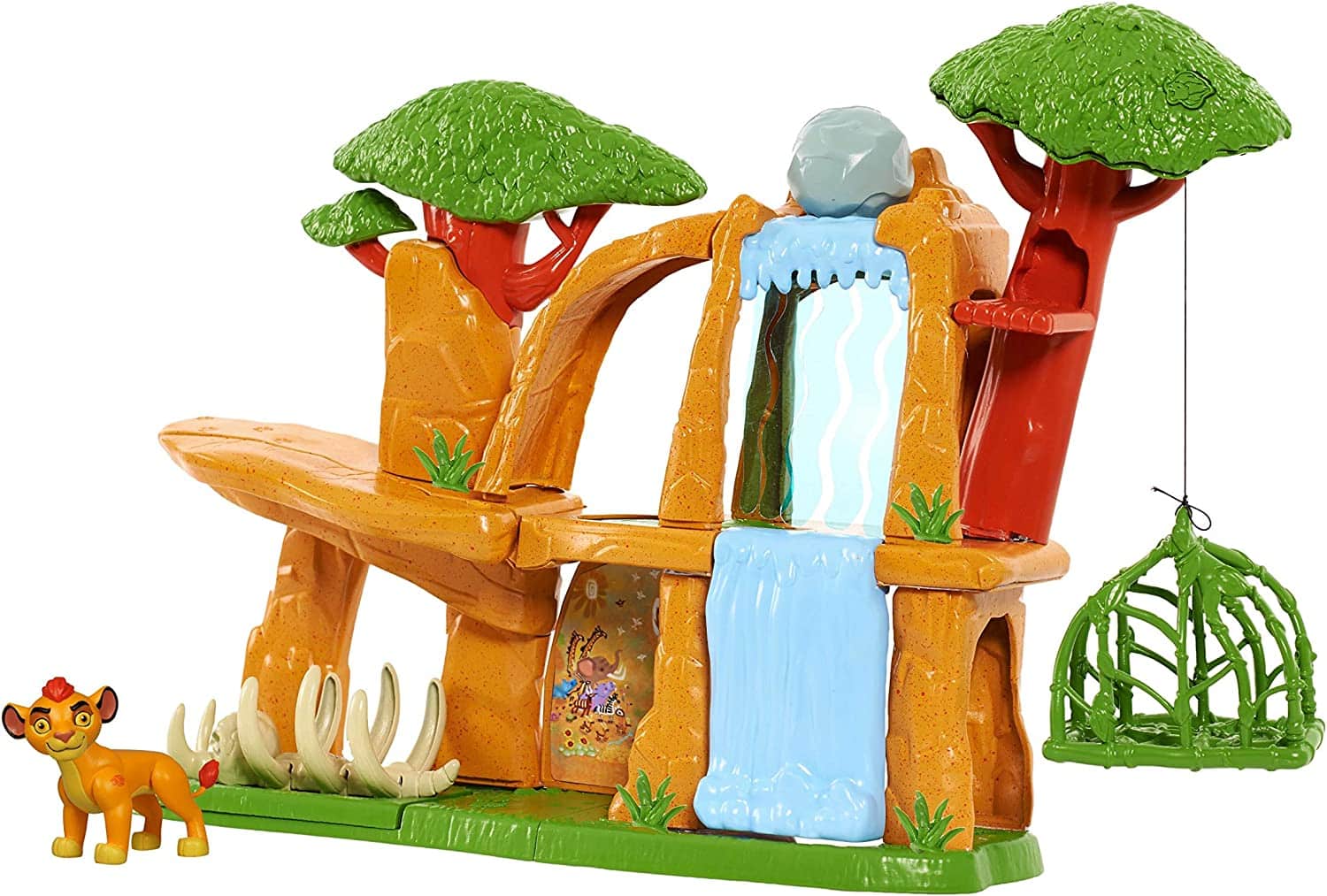 In my opinion, as far as figurine toys go, these are up there with some of the best ones I've come across.
With movable parts, these toys have much more to offer regarding gameplay than many others on the market.
The treehouse itself is made from heavy-duty material and gives the impression that it will be capable of a lot of handling and will last a long time, and the characters themselves, I found to be very sturdy and well made.
My boys loved the details of all the characters, and I had to agree, they were decorated very well. I find many of these plastic toys to have horrible painted faces that look nothing like who they're meant to be, but these were of a much better standard in comparison.
There is a lot that can be done with this game set, and for what it is, it includes many functions, such as an electronic lift, a pretend waterfall, and a level that can be used to move Kion across the land.
For what it is, I don't know if I could say that it's excellent value for money, but on the contrary, it's not extortionate either.
Overall, if your child loves Lion Guard, and is starting a collection, this will make a great addition.
Pros
Lots of different parts to explore
Moving parts
High quality
Durable
Great for role play games
Encourages imaginative games
Cons
Frequently Asked Questions
Question: Where Can I Buy Official Lion Guard Products?
Answer: You can purchase Lion Guard products from a wide choice of locations. One of the most popular go-to's for any Disney products is the official Disney website, Disney stores, or Amazon. Just look out for people selling replica products when shopping online.
Question: What Other Lion Guard TY Beanie Babies Can I Get?
Answer: Up to now, you can get your hands on Bunga, Kion, and Beshte. There are also options available from the Lion King, such as Simba and Nala.
Question: What Other Lion Guard Products Can I Buy?
Answer: The list is endless regarding Lion Guard products, and aside from the vast choice of toys, you can also buy items such as bedding, pajamas, t-shirts, curtains, lampshades, blankets, and tons of other accessories. Most of which can be found on Amazon.
My Conclusion on the Best Lion Guard Toys
Overall, my boys and I had great fun trying out these products, and while some of them were more entertaining than others regarding entertainment value, we were all thrilled with the outcome of our experiment.
Overall, I think the Lion Guard Pillow Buddy was my favorite in terms of practical use and appearance, my youngest son and I loved it. But the Lion Guard Deluxe – 10 Pack of Collectible Figures came up top in terms of playtime and entertainment value.
As far as being multi-functional, and the most hands on product, then for us, the Lion Guard Defend The Pride Lands Playset was the winner.
Continue reading:
Best Toy Story Toys of All Time