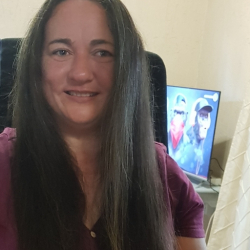 Latest posts by Caroline Lambert
(see all)
Where was the ultimate army toys guide when I grew up? My son and I never had an ultimate guide to army toys before we began enjoying the strategy game potential. A complete guide will show you the details you missed about army toys before. Sure, they're fun, but they're much more once you realize the potential.
Yes, I'm one of those parents who consider every developmental aspect a toy possesses for my kids. I want them to have endless fun with their favorite toy themes, but learning is as quintessential as their excitement. Army toys are a classic type that promotes various activities, enhancing critical thinking skills for children.
Army toys also appeal to various age groups. Would you love to learn about the potential of army toys? In that case, welcome to my guide.
Bottom Line Up Front
There are some fancy army toys out there, including remote-controlled army vehicles, army men Funko Pop figures, and military soldier dress-up costumes. However, I approach army toys from a strategy game perspective. Children will need a playset to begin the strategy games.
I'll show you the true value of using military toys as a strategy game to benefit children. Army men, tanks, airforce planes, and building kits offer so much value to a child's cognitive development. I remember the joy of defeating my enemies on the battlefield, and my son has the same vigorous passion for military toys.
If my premise intrigues you, take a look at the best military toy playsets available.
My Top Army Toys at a Glance
Sure, you can buy your children a few army men, but that doesn't guarantee hours of strategic fun. Here's a quick look at my best army toy playsets to encourage long-term gameplay:
Would you love to know why and how my top army toy playsets grabbed my attention? You'll need to dig into my guide and explain each toy's winning position.
The Ultimate Guide to Army Toys
Army toys offer the value of strategy games combined with a developmental enhancement for children of most ages. I'll show you the value, share some tips to encourage any child to play strategy games, and guide you on buying the best army toys.
The Value of Strategic Play
Strategy games and toys offer an abundance of advantages for children of all ages. Take chess as one example. It encourages a child to use considerable skills at once. They have to think outside the box and use math, literacy, and memory. The more they practice skills, the better they'll master them.
I love my kids playing chess and other strategy games. Army toys provide a different type of strategy game. Children also have to plan, use their critical and logical minds, and strategize technics to conquer their opponents. Strategy games also promote faster information processing through vigorous memory training.
Your children can advance their intelligence and exercise their memory capacities, which benefits them off and on the battlefield with army toys. On the other hand, how much fun did you have when you played with army men as a child? Strategy games with friends and my favorite army men were some of my fondest memories.
I enjoyed them so much that I still have a collection. Here are my favorite army toys from my childhood: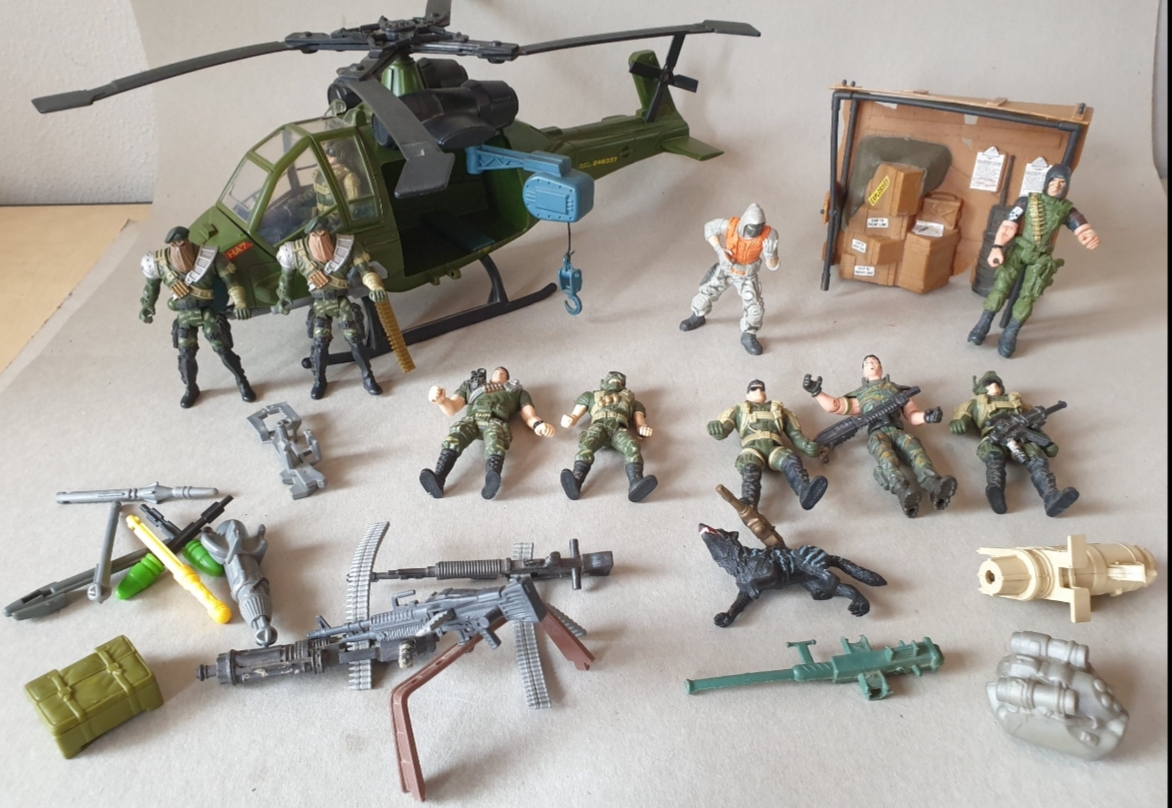 Tips to Encourage Strategic Activities
My son shares my passion for army toys, but my daughter needs some encouragement. Understandably, army toys seem like a boy's thing. I was indeed a tomboy in school and played with boys' toys. However, I encourage my daughter to play strategy games on family game night.
My son brings his favorite army toy collection, and we plan a game before the fun begins. Think outside the box. Plan a "capture the flag" scenario with the army toys or a game similar to Battleship. Once, we played capture the country. We each got the same army men, vehicles, and weapons.
We added dice, and the highest roller would make the next move. We had rules like no one could blast the entire army off the map at once. If my son hid an army man behind a tank, he was safe from the attack my daughter launched against that man. Use your imagination to inspire kids to exercise their strategy playtime.
The point of playing with the kids is that you can teach them to strategize by hiding army men behind barricades. You can teach them about the logic that a tank won't blow up from a tiny bullet. Allow kids to play with their friends, too. You'll be surprised at how imaginative they become.
The best tip I have is that you pick the right army toys for strategy games, leading to my buying tips.
How to Select the Best Army Toys
Army toys could mean anything, from action figures to radio-controlled tanks. However, I want army toys that encourage hours of strategy games. I want complete army toy kits with four or more pieces. Each set must include weapons, battlefield accessories, vehicles, barricades, or buildings.
The sets don't have to include every accessory in one as long as you have an army man and one or more accessory types. I'll also accept army toys children have to build before playing with them, as long as they meet my "kit" standards.
Ultimate Army Toys Guide: The Game Awaits
Are you ready to help your kids find their new best strategy game with military toys? Then, you're in the right spot. I'll give you the battle facts that make each playset a winner, but I'll add an idea for gameplay. Don't underestimate the imagination within your child's mind, either. Let them coerce gameplay as well.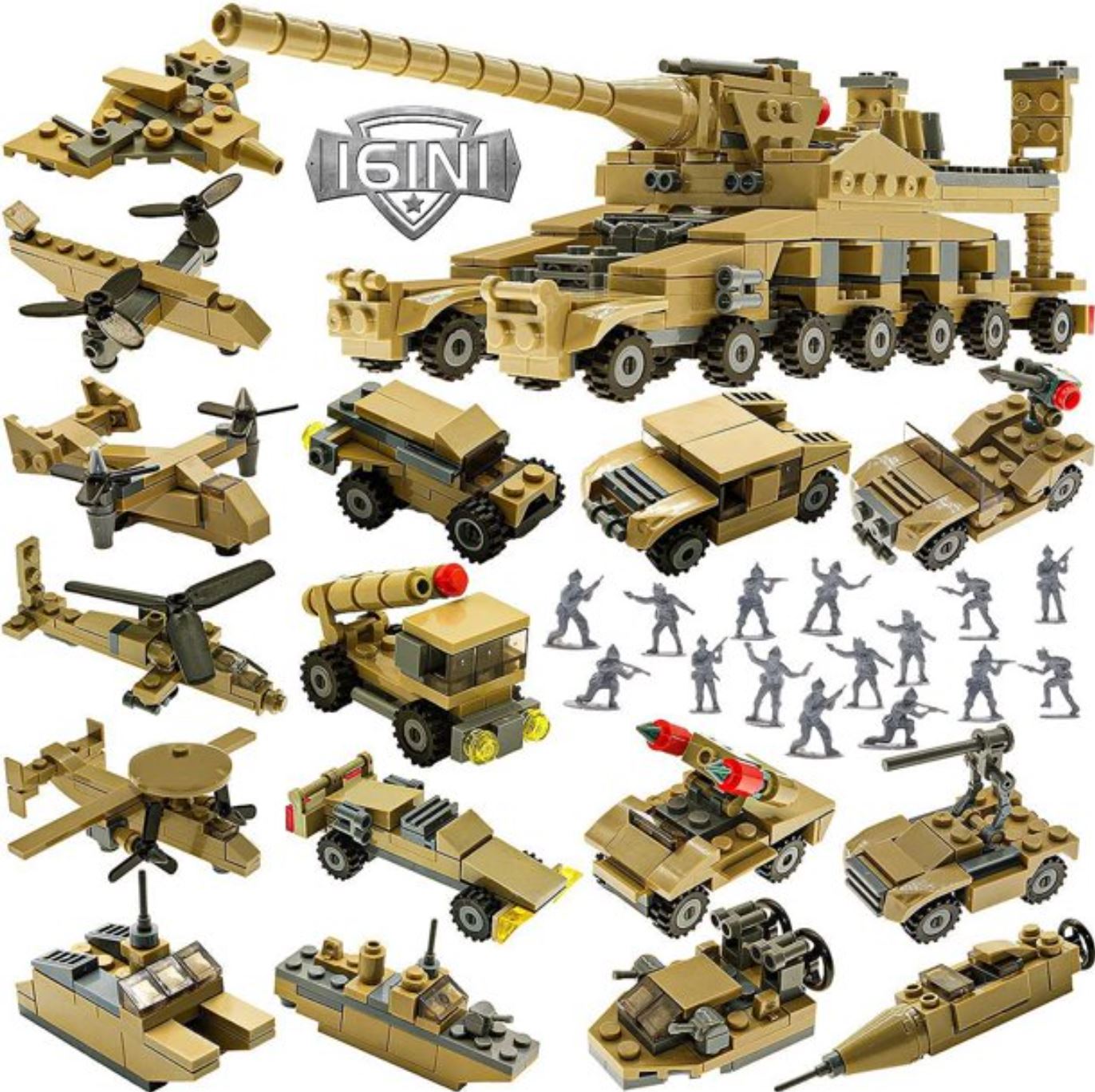 I can see countless games with this advanced army toy playset. Sure, you'll step on a few pieces that make you scream louder than Lego blocks, but the fun will never end. Children can enjoy multiple military vehicle toys, and they get a few toy soldiers to complete the set. This set has every military vehicle you can imagine.
Battle Facts
Army: German army toy set
Pieces: 544 (it's a model building kit)
Accessories: Toy military planes, toy army vehicles, army men, missile launcher toys, and much more
Game Idea: I'm thinking of a Battleship variation game for this set
Pros
The STEM army playset doubles as a military construction toy that kids first have to build, and they learn math, engineering, technology, and science skills above strategy
The military playset includes a wide array of toy army vehicles for countless hours of fun, and the cars have push-to-play abilities to teach little ones cause-and-effect
Cons
The STEM military toy playset is best suited for kids between six and ten (although I can see still my son playing with it)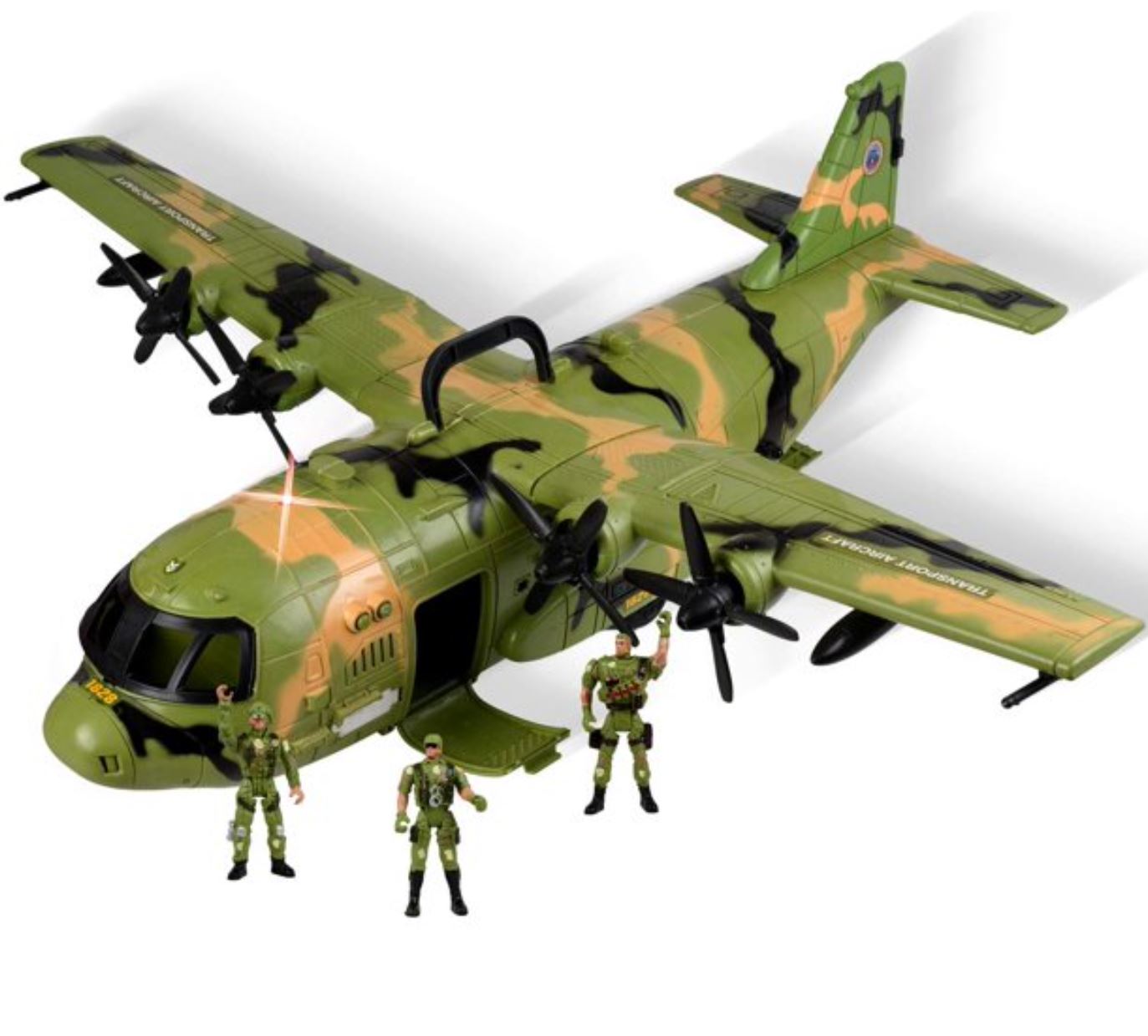 Do you think I started too strong? No, there are plenty of incredible imaginative play army toys available. Can you imagine a combat plane with sound effects and lights? Well, I found a fantastic toy combat fighter that fits the bill. It also comes with three fabulous toy soldiers to ensure proper strategy activities.
Battle Facts
Army: German military toy
Pieces: 5
Accessories: A C-180 military bomber airplane model and toy soldiers
Game Idea: It's an excellent choice for airstrike games
Pros
The F16 military combat airplane toy is a winner because it has a realistic look for an affordable price, and the propellers turn for younger kids to enjoy cause-and-effect activities
The toy military plane also comes with sound effects and lights to add a sensory experience for game players
Cons
It uses batteries, which parents might shun, and it doesn't work for kids under four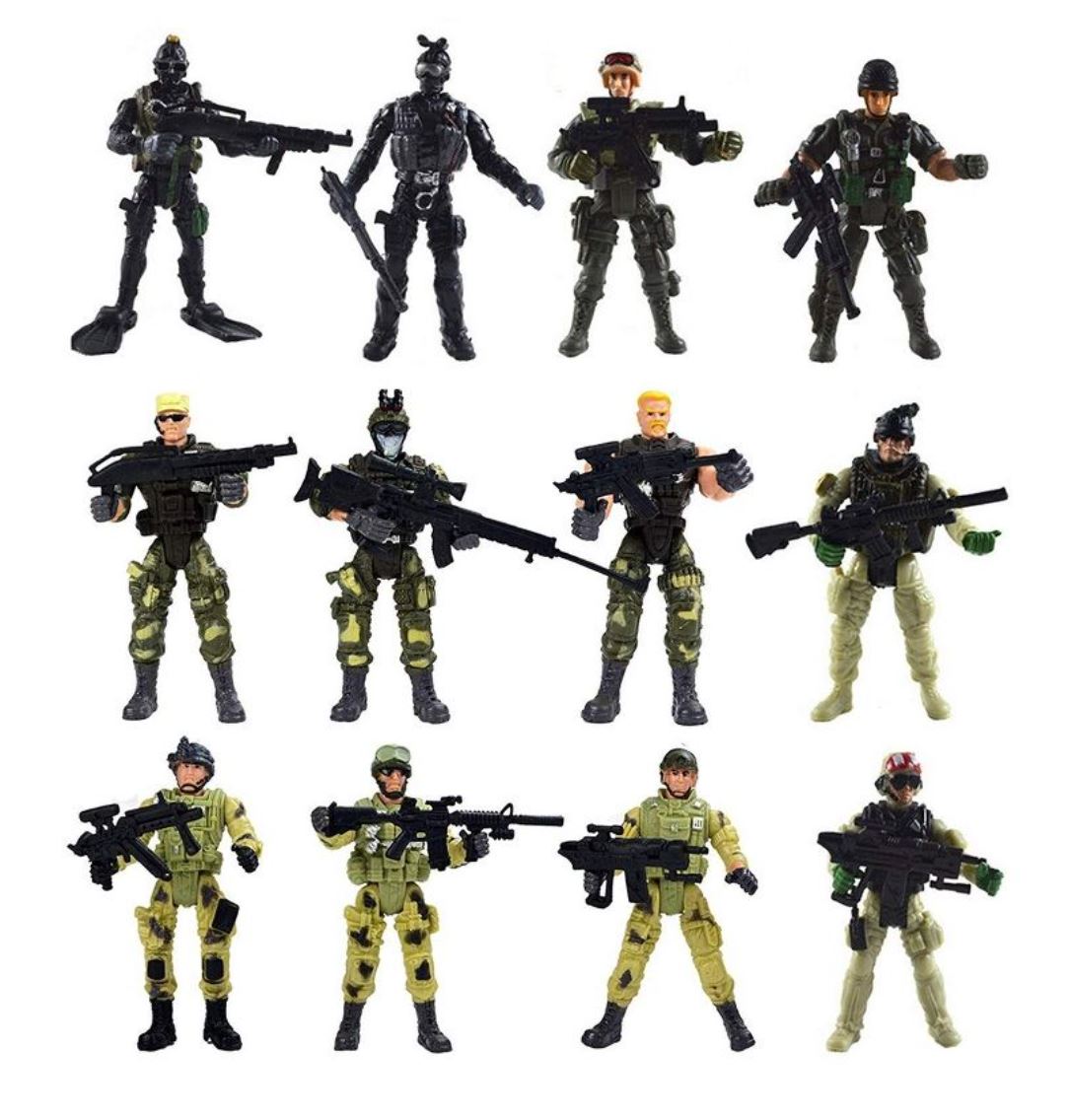 Toy soldiers are something every child should own, even if they play with them in other games. However, the standard army men can become tiresome. Kids also can't position them differently because they don't have articulated points. This army men playset is unique because the figures can move and hold different weapons.
Battle Facts
Army: US Special Forces figures
Pieces: 24
Accessories: 12 Soldiers with 12 weapons
Game Idea: I see a "capture the flag" game for toy soldiers
Pros
Kids can enjoy 12 toy soldiers from the US Special Forces SWAT team, including a dozen weapons that can change from one soldier to another
The toy soldiers have points of articulation for better gameplay because kids can crouch them behind barricades and position their arms in any way possible
Cons
The underwater SWAT members look like masked criminals, and you'll have to teach kids about the swimmers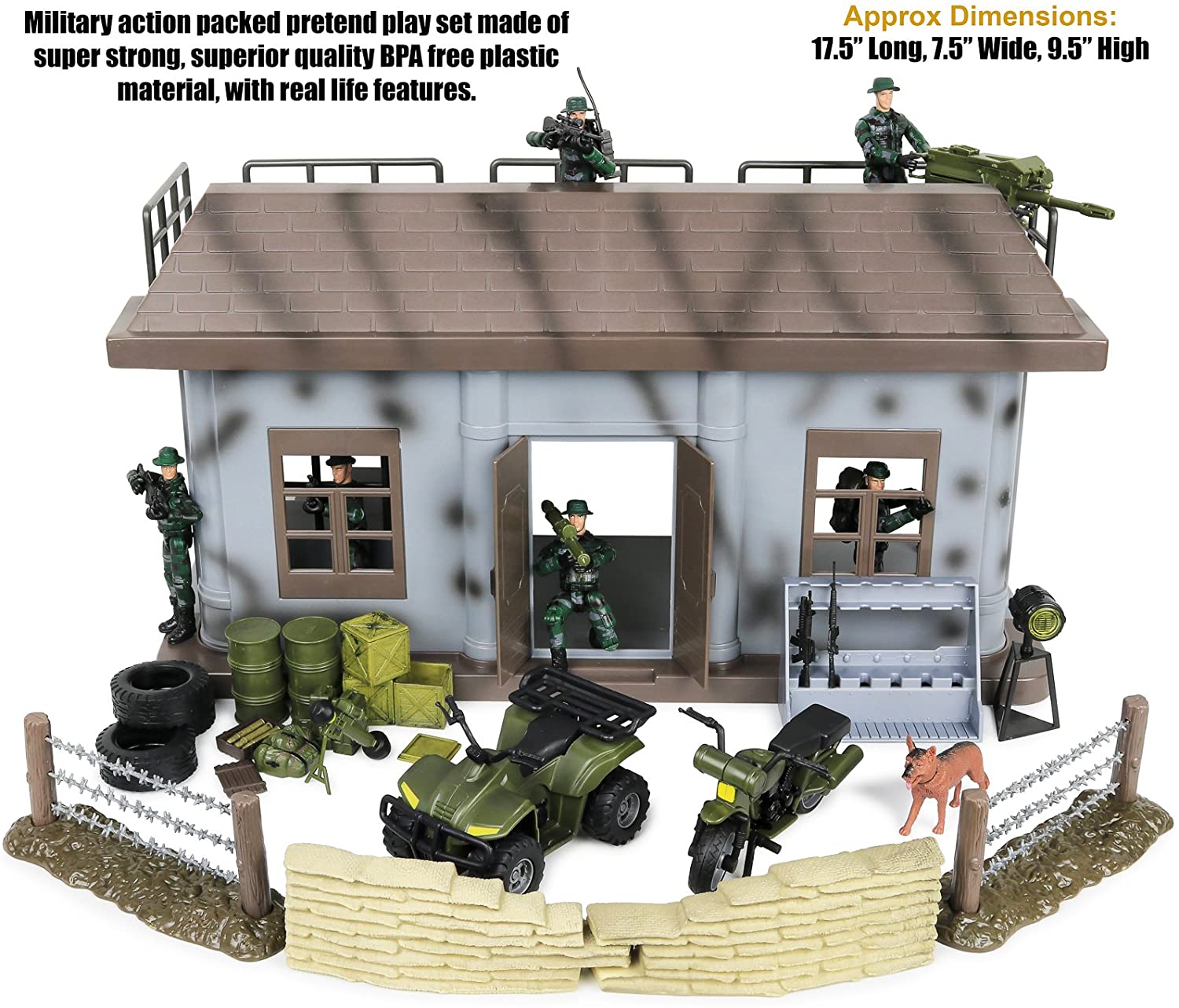 Army toys come in a range of playsets, but not many of them come as multi-level kits. This military toy playset makes children think beyond the normal attack range on the frontlines. It encourages them to strategize before setting out on the warpath in the control room. I like that it includes a dog like my old set does.
Battle Facts
Army: US military toys
Pieces: 51
Accessories: Toy soldiers, guns, ATVs, a dog, a motorbike, and barricade toys
Game Idea: I imagine a "defend the fortress" type of game with this set
Pros
The multi-level army toy playset has a control room with a map, movable barricades for defense strategies, and multiple weapons that fit into the various toy soldier's hands
The toy soldiers are exceptional because the surprisingly small figures have 22 points of articulation, and I love the missile-launching ATVs
Cons
The military playset works best for kids over six because of the smaller parts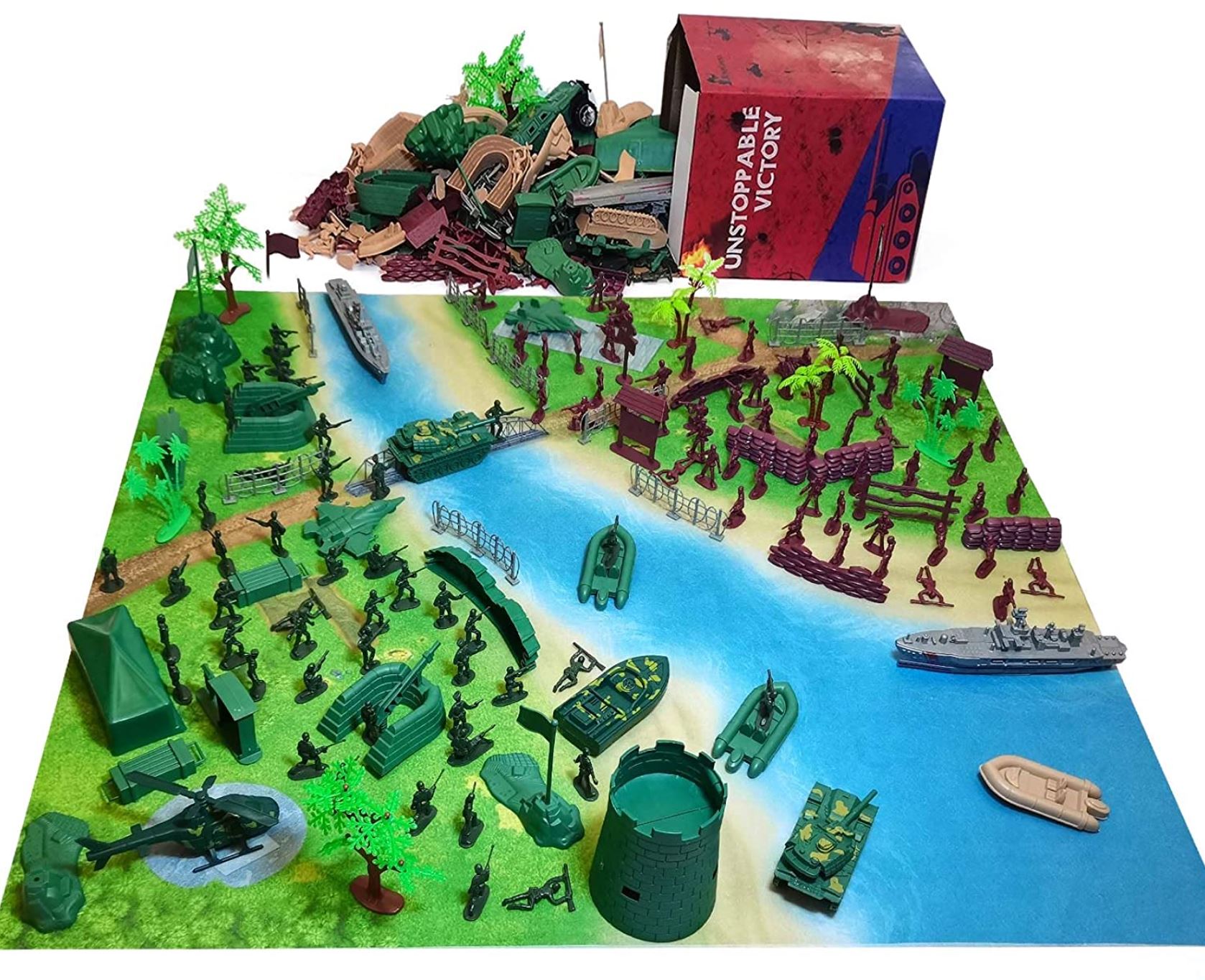 Playmats are the way to go when you need to set a scene. Army playmats include jungles, mountains, and landscapes that encourage children to conquer another place. It's a complete set with everything kids will need to plan battles and takeovers. It has boats, a watchtower, tanks, and even pine trees to add to the landscape.
Battle Facts
Army: US Army playmat
Pieces: 293
Accessories: Army men, toy military tanks, an army base playmat, barricade toys, and more
Game Idea: This playmat is fantastic for strategic takeovers with two parties playing in different countries
Pros
Children will have a ball planning their attacks on the opposite side to conquer new land, and the set includes more of a variety than most army playsets
I like how the military playmat looks like an island because my kids love playing with mats that resemble tropical paradises
Cons
It takes time to set up both sides with every toy you want, but it's worth it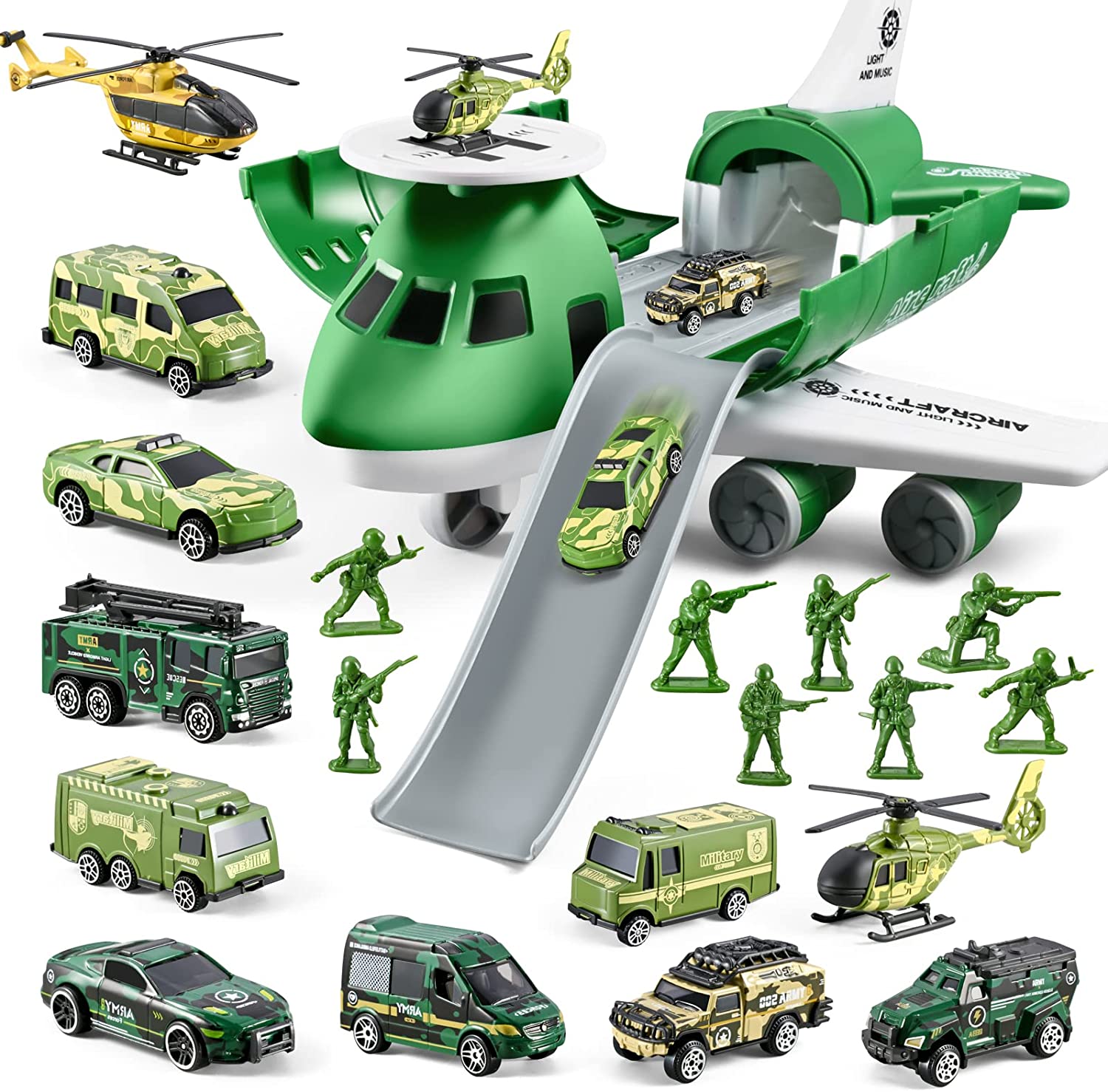 This playset has a variety of cars and aircraft for kids to enjoy. Army toys come in a range of vehicles, planes, tanks, and helicopters. The army men are classic with their static green designs, but the cars and aircraft are diecast models that last forever. I have a few diecast toys in my collection, and they're fantastic.
Battle Facts
Army: US Army diecast toys
Pieces: 58
Accessories: Toy soldiers, a carrier aircraft toy, three toy helicopters, and various army vehicle toys
Game Idea: This set would work magnificently for a raiding attack on someone's base
Pros
The army vehicles and aircraft carrier playset has hardy toys that last children years, and they can enjoy endless play without breaking them
The aircraft carrier opens up to let the vehicles out, and it has a heliport on the top of the plane to allow for safe helicopter landing in enemy territory
Cons
It's a pity the playset doesn't come with a few weapon accessories because it looks like tons of fun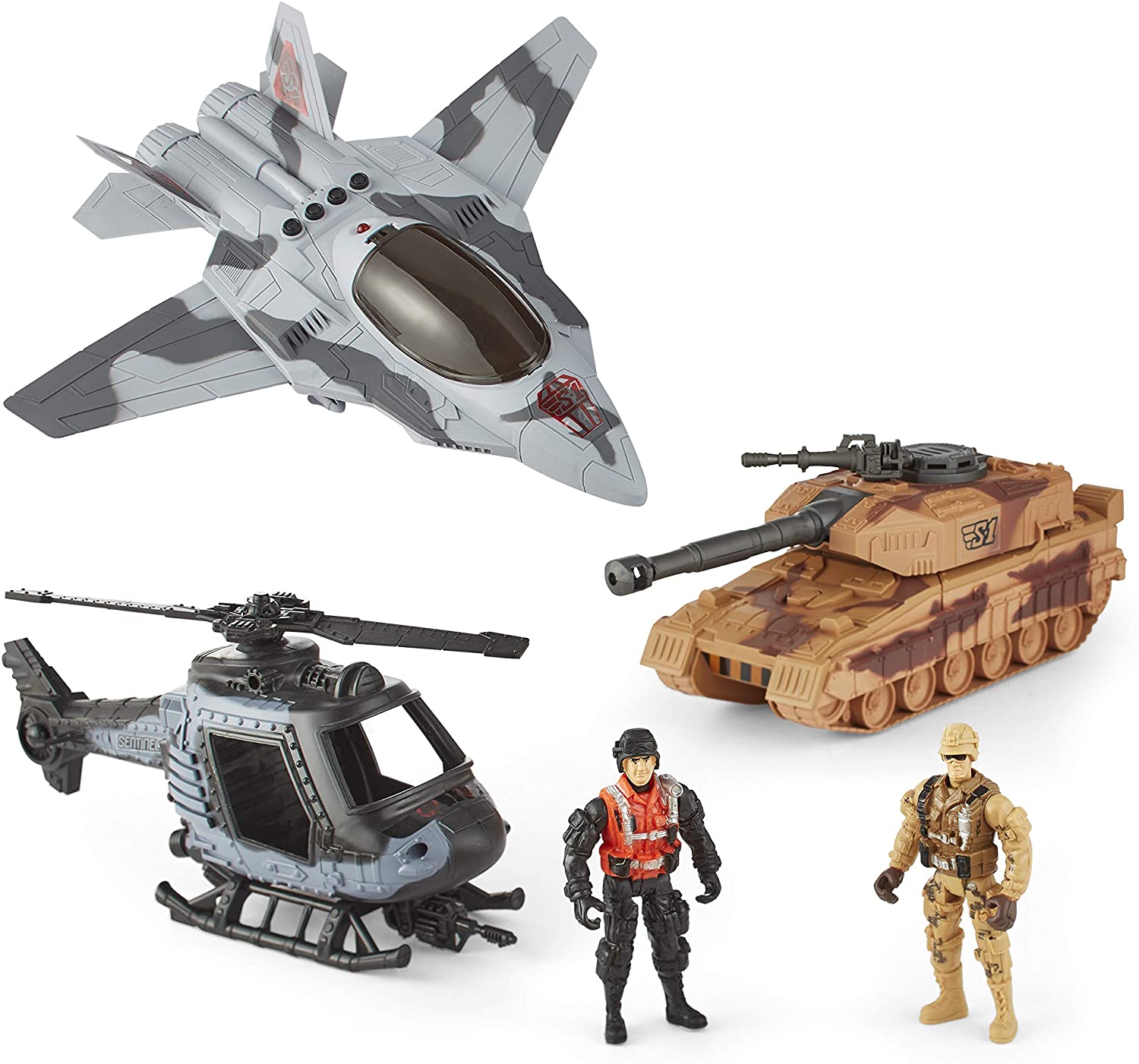 Every toy military playset has pros and cons. The previous playset is fantastic, but it doesn't come with a fighter jet. This playset has a fighter jet but not as much variety. This playset also has something the diecast set doesn't have. Articulated figures and interactive accessories make it more exciting for little kids.
Battle Facts
Army: US Army Airforce playset
Pieces: 5
Accessories: Toy soldiers, a fighter jet, a tank, and a helicopter.
Game Idea: I'm still thinking of a raiding party with this set, but an airstrike on an enemy base works, too
Pros
The toy fighter jet, tank, and helicopter have sound effects and interactive parts for kids to turn, and the toy soldiers come with points of articulation for added fun
The fighter jet toy looks impressive, but the helicopter stands out with a mean design that makes enemies tremble
Cons
The army men can hold weapons, and I wish there were some accessories to add to their hands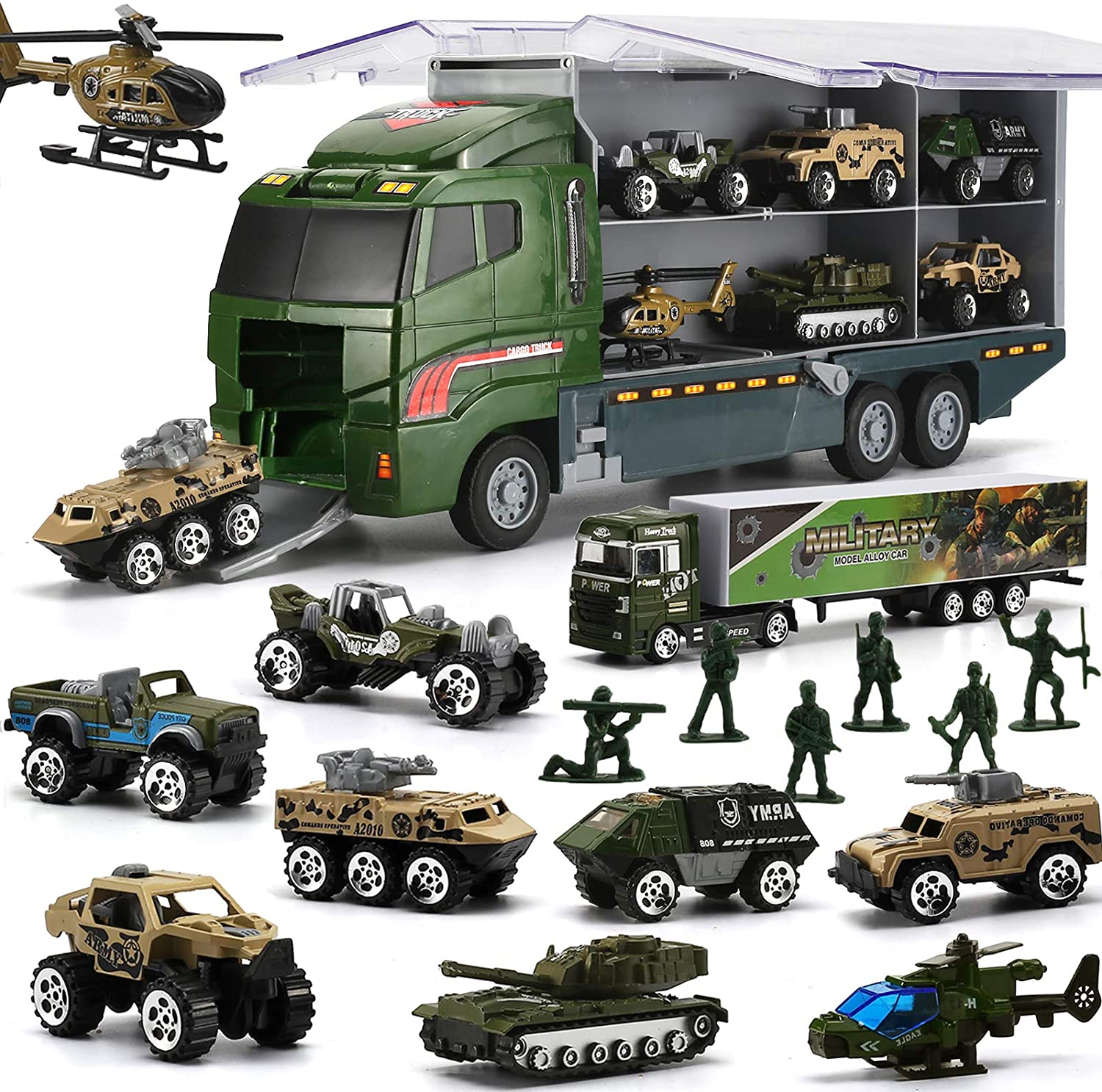 Admittedly, military toy vehicles are as popular to play with as soldiers. They easily complete sets without the need for 500 pieces to play a game. Unfortunately, many army vehicle playsets come with classic toy soldiers and not articulated ones. My son's interested in this playset because he loves things that go boom.
Battle Facts
Army: US Army convoy playset
Pieces: 26
Accessories: A carrier convoy toy truck, military vehicles, helicopters, and toy soldiers
Game Idea: One child can plan their journey through enemy territory while the other defend their land from the invader
Pros
The road convoy carrier comes with multiple diecast army vehicles for long-term fun, including some offroad ATVs
The army helicopters and cars toys fit snug into the truck as the sides lift, and the tank comes out of the truck's horse
Cons
Some weapon accessories and articulated toy soldiers would make this an excellent playset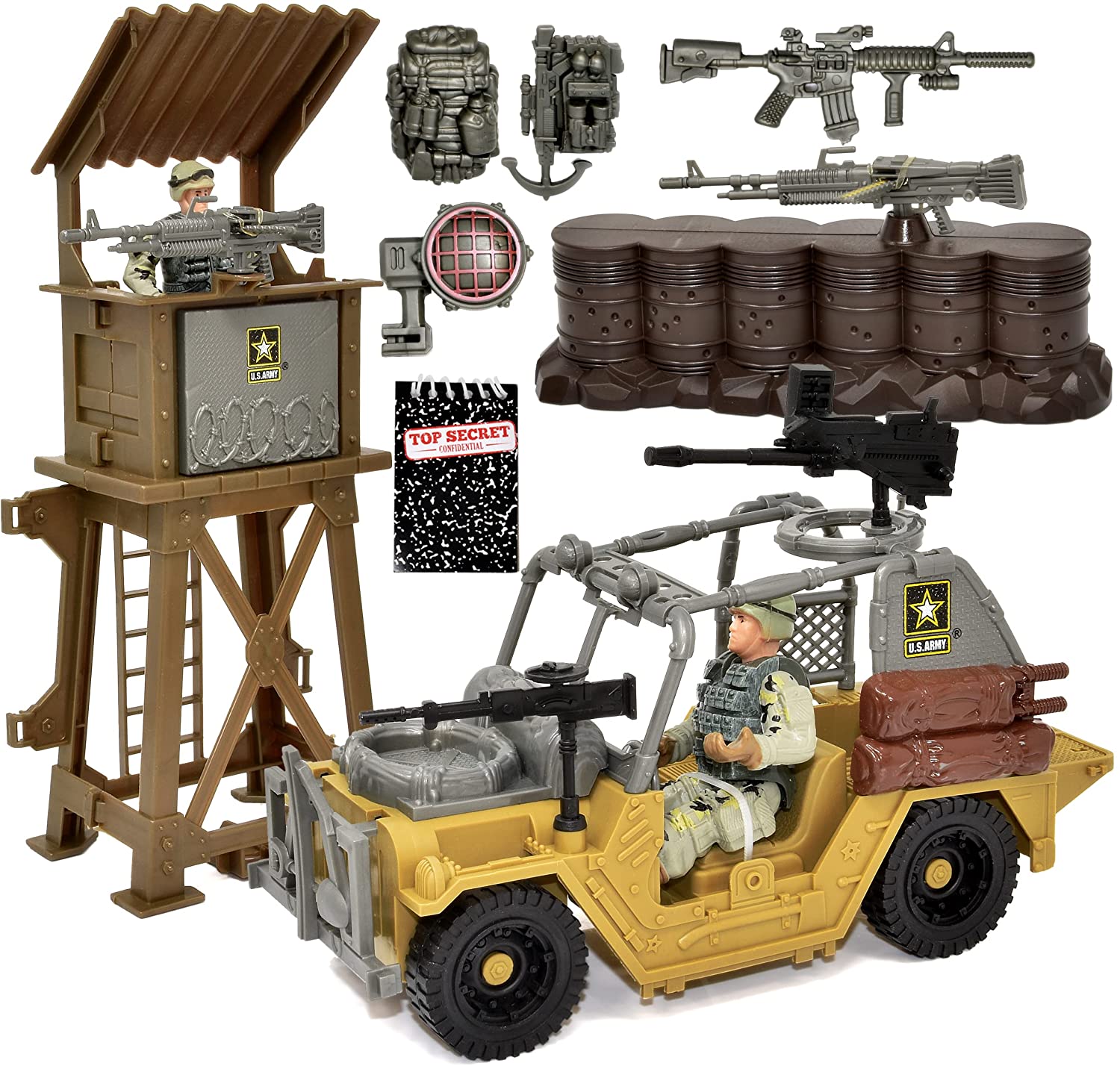 Outlook posts make incredible playsets, especially in defense games. I love how the playset includes a top-secret accessory. What would happen to a military base if there wasn't a watchtower with a soldier standing at attention and looking for threats? What is this army base hiding? Can your child find out with the convoy?
Battle Facts
Army: US Army watchtower playset
Pieces: 11
Accessories: A watchtower, toy soldiers, toy barricades, and toy military weapons
Game Idea: Maybe the child protecting their territory from the coming convoy can use the watchtower playset
Pros
The military outlook post playset has two articulated toy soldiers for kids to position in the tower and vehicle
The army watchtower playset comes with fantastic toy weapons, and it includes two backpacks for the toy soldiers
Cons
I wish there were more toy soldiers with this playset, and the backpacks are hard to put on the soldiers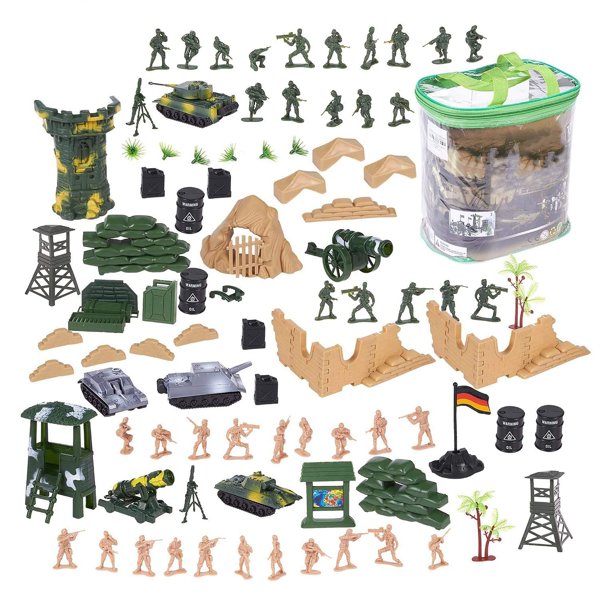 Do your kids love the watchtower idea from the last playset? The medium-strategy army toy playset has various outlook posts, ranging in size and design. This military playset is similar to one we've used on family game nights. It's nearly identical to the one we used for a "capture the flag" makeshift game.
Battle Facts
Army: US Army playset
Pieces: 100
Accessories: Toy soldiers, toy barricades, watchtower toys, army vehicles, and toy missile launchers
Game Idea: Strategy army playsets work for any game, but the "capture the flag" scenarios are tons of fun
Pros
The medium-strategy 100-piece army playset leaves the imagination open to various games for kids and adults, and it comes with many accessories for dessert-style battles
I love the oil drums because it adds depth to the game if soldiers blow up their enemies hiding behind flammable drums
Cons
Again, I wish there were a few articulated soldiers to make things more interesting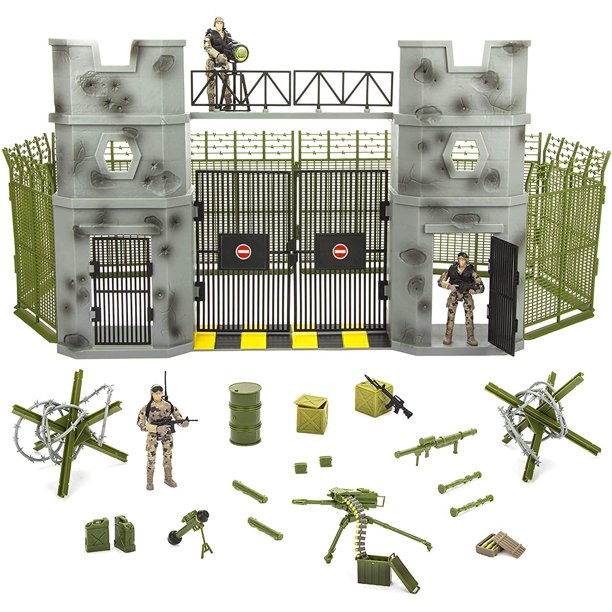 Many army playsets come with a military base, but I love how this one looks like a genuine fort. Imagine playing a game where you're hiding something valuable, precious, or dangerous. It would take an enemy a lot of planning to get behind these bars. The military playset also comes with fantastic accessories.
Battle Facts
Army: US Army base playset
Pieces: 51
Accessories: An army base, toy soldiers, drums, barricades, and toy military weapons
Game Idea: It's the ideal playset to use on the defensive line when protecting something or someone
Pros
The army base playset has high fences with interactive gates you can open and close, and it comes with three articulated toy soldiers
I love how the toy soldiers can change weapons, and the accessories are incredible to use as a defense against enemies
Cons
I wish the playset had army vehicles and maybe something more inside the base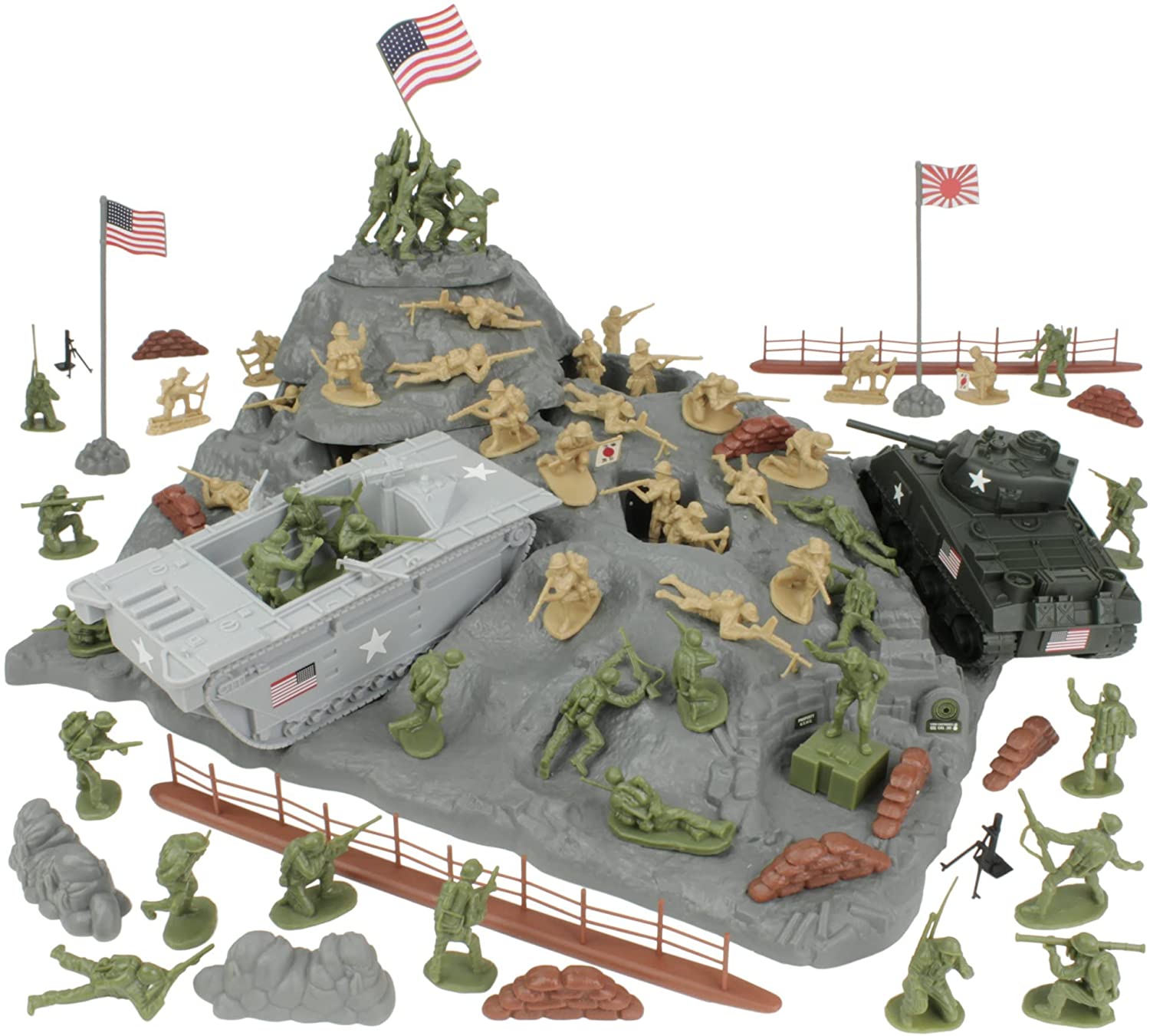 If you ever saw an army playset that inspired "capture the flag" games, this one would win hands down. I can imagine us fighting to get to the top flag. The dice scenario would work, but the rules about moving up would be complicated. There aren't many barricade toys unless the tanks work as barricades.
Battle Facts
Army: US Army WWII playset
Pieces: 72
Accessories: Toy soldiers, flags, a mountain, army tank toys, and barricades
Game Idea: This playset is undoubtedly ideal for "capture the flag" games with the family
Pros
I love how the military playset uses a mountain to climb to reach the flag, and the apertures work perfectly for the little soldiers
The toy army tanks are impressive for plastic models, and the US army faces Korea on this mountain (you don't get better than this showdown)
Cons
I don't like how the soy soldiers are static in crouching positions because it limits gameplay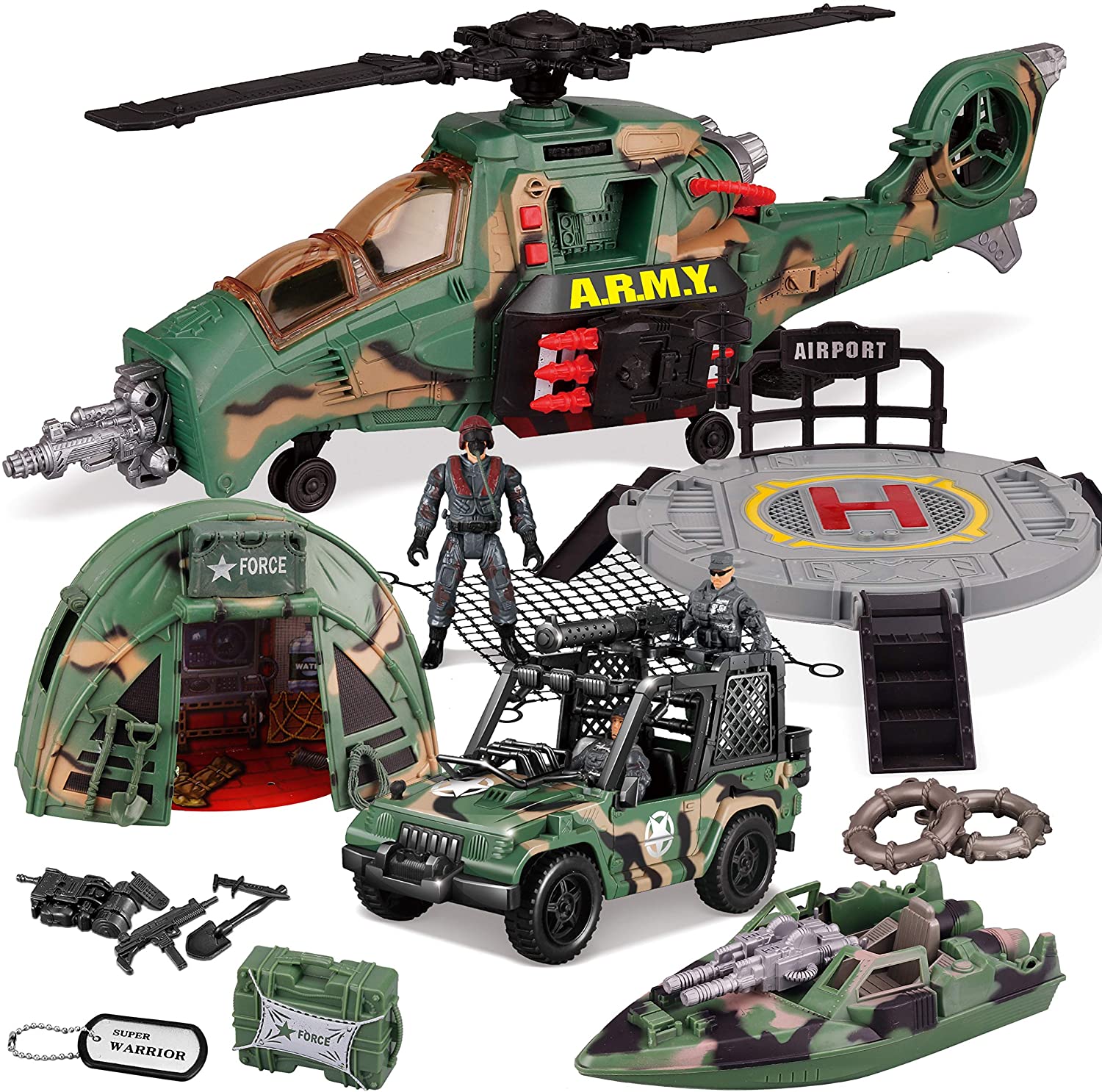 Interactive military playsets welcome children to expand their imaginations further than ever before. They can change the soldiers between vehicles and turn the helicopter's rotor blades. Interactive play with army toys can help younger children, but keep in mind that these toys have small parts and aren't for kids under three.
Battle Facts
Army: US Airforce toys
Pieces: 10
Accessories: A helicopter, a tent, a helipad, a military toy boat, and toy soldiers
Game Idea: This playset works perfectly for across-the-river battle games
Pros
The military playset comes with interactive pieces for kids to change the soldiers between the accessories, and they get dog tags
The toy soldiers have points of articulation and can hold various weapons, and the helicopter has missile launchers on the side
Cons
I wish the set had a more comprehensive selection of toy army weapons and soldiers for mass attacks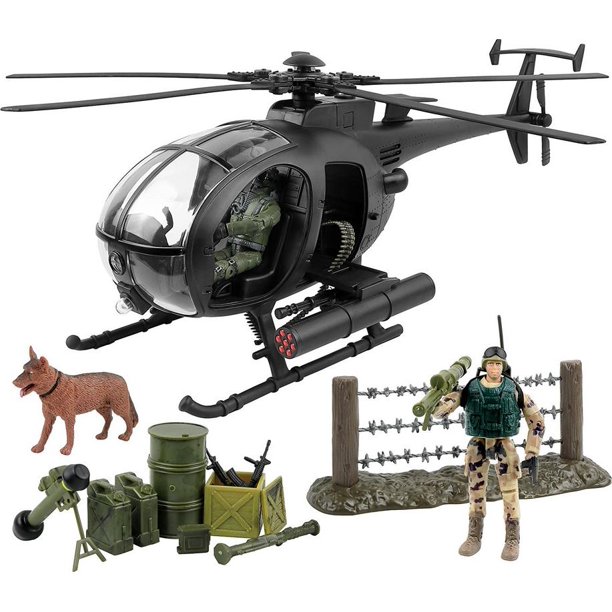 My son and I are obsessed with army helicopter toys. This playset has another interactive one for little kids to turn the rotor blades before lifting off. It also comes with a toy army dog, which you'll notice I love if you look back at my childhood army toy collection. It's a simple set with so much potential.
Battle Facts
Army: US Army toy helicopter
Pieces: 20
Accessories: Toy soldiers, a toy army helicopter, a dog figure, and barricade toys
Game Idea: A game where kids defend a base would be excellent because the aircraft can add to the defense
Pros
The army playset comes with one of the favorite toys, a helicopter, and it includes a dog because everyone loves a man's best friend
The army toy comes with a great selection of weapons, considering it only has two toy soldiers and a single vehicle
Cons
I wish the playset had more toy soldiers to use in the selection of weapons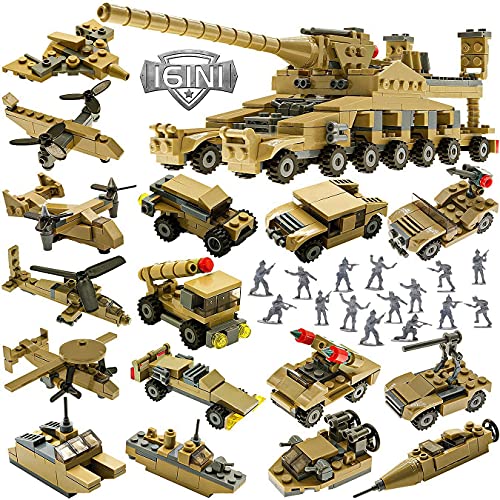 Okay, my criteria for the best army toys include playsets with four or more pieces. This set only has three parts once you complete the build. However, it has more than 300 pieces to keep children busy with a construction army toy before the games begin. The building part can also be a family game night choice.
Battle Facts
Army: Army tank building kit
Pieces: 324
Accessories: One massive and aggressive-looking military tank and two toy soldiers
Game Idea: Any game where kids defend the fortress will work with this playset
Pros
I've never seen a more aggressive-looking army tank model, and the little toy soldiers look like Lego men
The details on the military tank are astonishing because it's a block model, and the tank is fully interactive for imaginative military play
Cons
The playset could have a few more weapons and soldiers to make it more exciting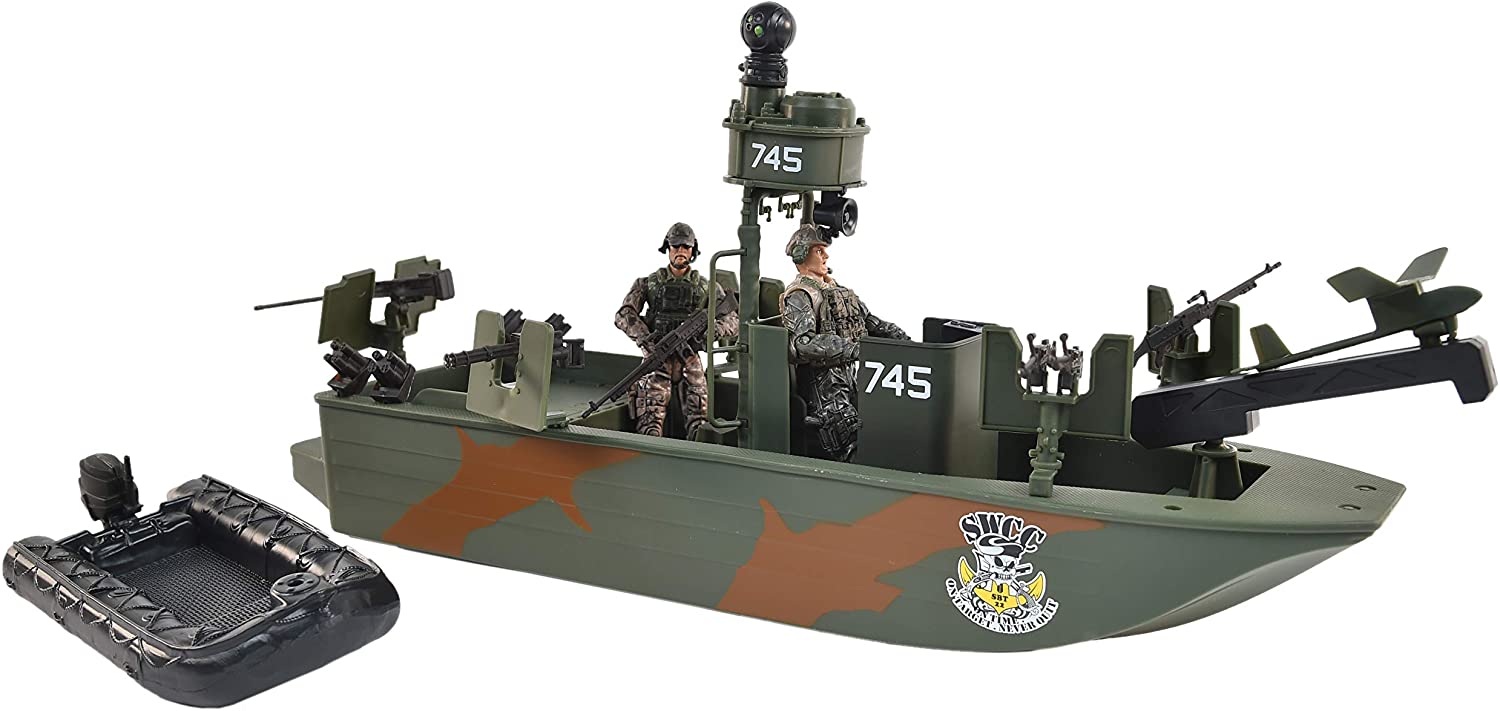 The navy does incredible things for our country, and I have to add one navy playset to complete the best options. I also haven't added too many battleships for your army toy considerations. They make for excellent summertime games outside with the family. Get everyone in the sun for this game.
Battle Facts
Army: US Navy playset
Pieces: 5
Accessories: Toy soldiers and navy boat toys
Game Idea: Playing a sneak attack game on the water in summer is fantastic
Pros
The navy battleship toy playset comes with two articulated soldiers for added fun, and they can change positions
The battleship model has gorgeous details and comes with a small rescue boat, and the second soldier has an added weapon
Cons
I would add a few more toy soldiers to this playset
Top Q&A
Question: Which Army Toy Playset is the Best?
Answer: If you're ready for maximum battles and endless gameplay that benefits your children on intellectual levels, you'll love my favorite army toy playset. The STEM Army Toy Building Playset teaches little ones about science, engineering, technology, and math while they never run out of ideas for fun strategy games.
Question: Which Army Toy Appeals Better to Adults?
Question: Which Remote-Controlled Army Vehicle Toy is the Best?
Ultimate Army Toys Guide: Conclusion
Are you as excited as your kids to play strategy games? Consider the level of skills children have and work on improving their cognitive development with the right army playset. The Best Advanced Strategy 500-Piece Army Toy Playset is a fabulous choice for family night and older kids.
The Best Army Men Strategy Playmat and the Best Army Vehicles and Airforce Fighter Jets Playset are ideal for hours of strategic fun. The Best Army Watchtower Playset and the Best Military Base Playset work for defensive gameplay. The Best Military Soldiers and Tank Playset is a fun model to build as a family.
Are you strategizing your next move? The only planning you need is for game night. I've shared a few suitable army playsets, so buy the one that makes your family game nights a new arena of fun and learning.
For incredible toys:
Ultimate Lego Toys Guide for Team Fun – Avid Toy Insider
Ultimate Iron Man Toys Guide for Stark Fans
What are the Best Amazon Toys for Boys?