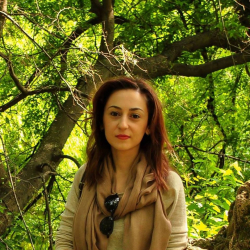 Latest posts by Alexandra Gavrilescu
(see all)
For most people, especially children, Disney is paradise on Earth, the happiest place there is. Many of them dream of visiting Disney World at least once in their lifetime.
Due to all the fantastic feelings kids experience there plus their love for all Disney movies and cartoons, they want something, or more than one thing, to take home with them so that they can remember those moments and cherish them forever. Therefore, parents are always searching for the best Disney toys they can find and afford for all these reasons.
I love classic characters such as Mickey Mouse or Donald Duck, but the kids today might like modern toys better. Many children would love to receive toys featuring their favorite Disney Junior cartoon figures like Fancy Nancy.
Check out the following Disney toys and pick the one you think your child would be delighted to have and play with.
The Best Disney Toys to Consider – Top 14 Choices
*The following toys are listed in no particular order. I've chosen them based on their popularity, symbolism, and for their level of fun and educational combo. 
Valuable Vintage Disney Toys
Disney has a long history and an excellent reputation among parents and children alike. I remember how much I loved and still do those mesmerizing classic Disney movies and dreamt of becoming a princess myself. The first full-length Disney movie is an iconic one, Snow White. It was resealed in 1937.
Besides their great movies, Disney is also known and liked for its licensing and wonderful merchandise, among which there are the popular Disney toys. Some vintage Disney items are now considered incredibly valuable, and certain things might even be worth a fortune.
Little Mermaid Water Sprinkler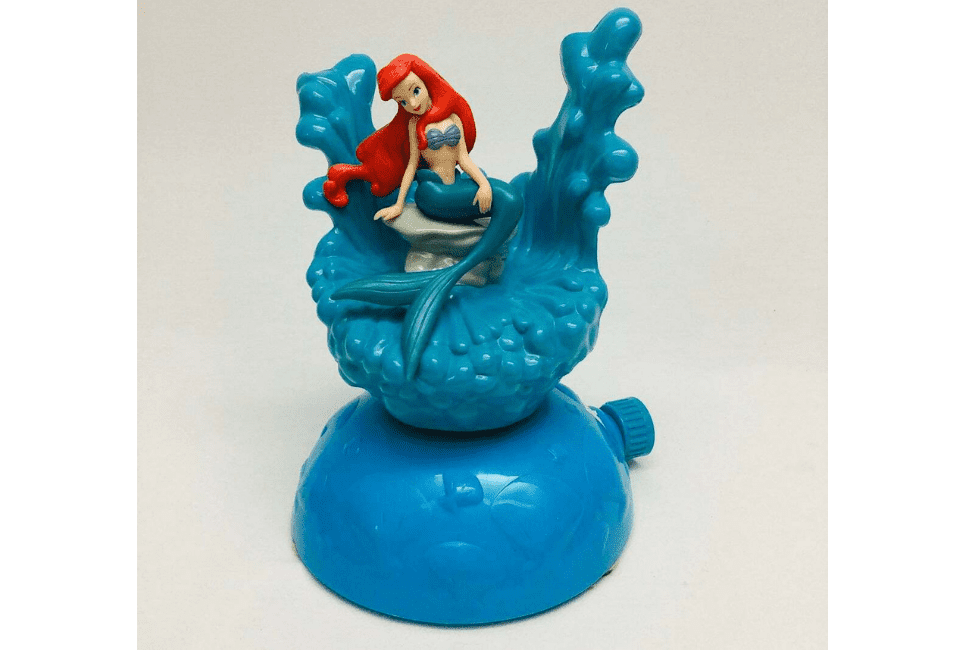 Between 1989 and 1999, the company thrived, after a difficult period. That timeframe is now known as the Disney Renaissance era. One of those classic movies was Little Mermaid. After the movie, themed toys and merchandise were all over the place in numerous stores. Part of that merchandise can now be found and purchased on eBay, but many of those items are pretty expensive.
If the toy is unused and unopened, its value increases significantly. That's also the case of one Little Mermaid water sprinkler toy that was sold on eBay for $100. It's colorful and entertaining. I found one of these vintage Disney toys on eBay. It's less expensive and in good condition.
Bambi Forest & Friends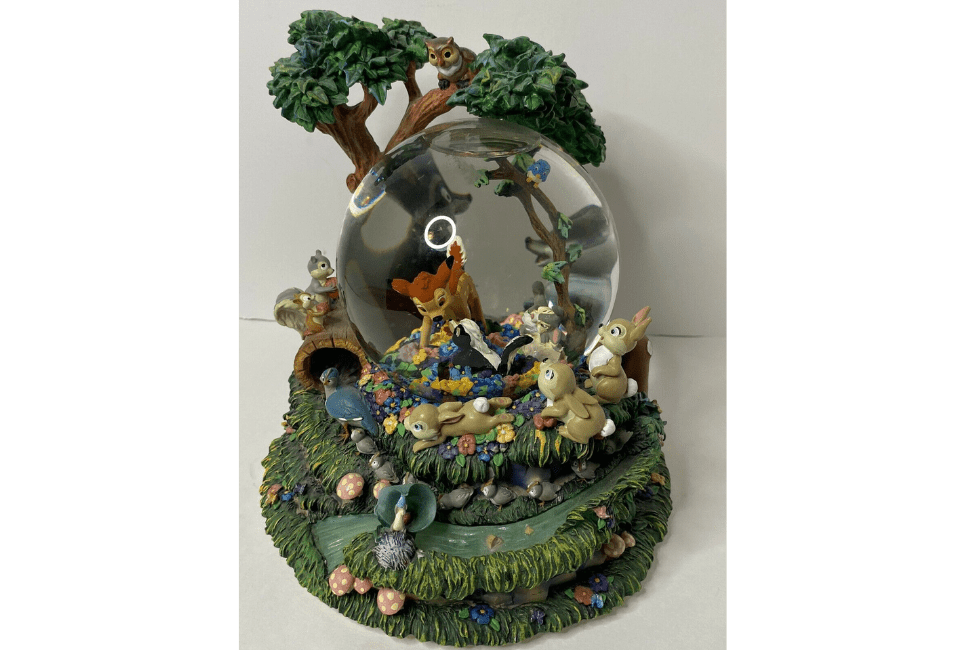 This is a water glass globe featuring Bambi and its friends in a scene from the forest. All the details are so lovely and intricate. Disney released the movie in 1942, and it was both groundbreaking and heartbreaking. At first, the film was criticized for being too sad, but now it's considered one of the classical Disney works.
Those who have kept the original merchandise after the movie was resealed can now sell those pieces and make quite a few bucks. For instance, one Bambi water globe was sold online for $130. Items such as this one that became sold out are the ones with the most considerable value that many collectors search for.
Mickey Mouse's Treasure Ship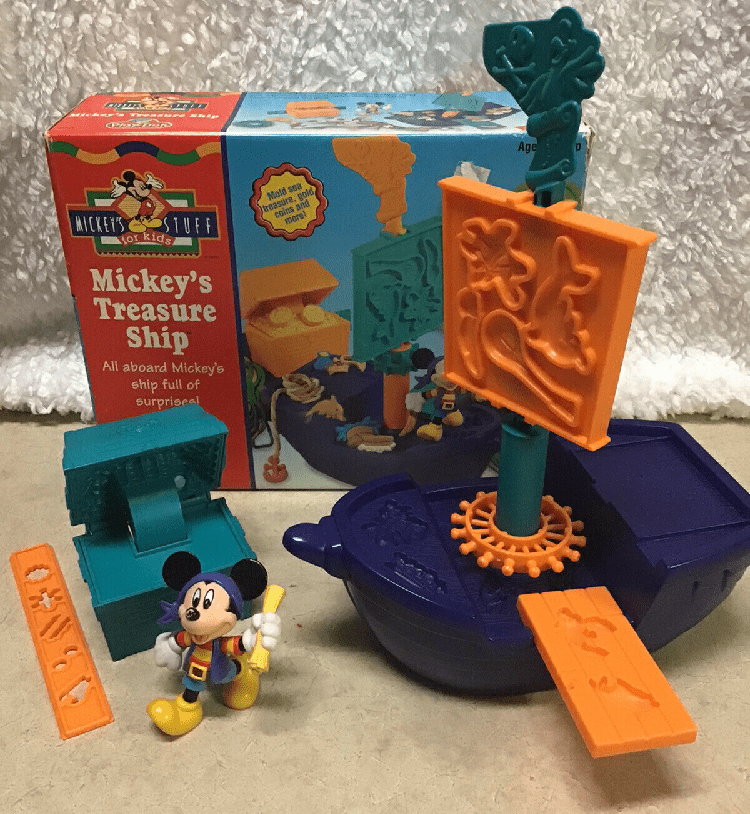 This Disney toy is a vintage play-doh set. One of these products was bought on eBay, and the price was $131. After all, Mickey Mouse is the most iconic and recognizable Disney character of all. Truth be told, I don't think Disney would exist today without Mickey. So, all related memorabilia is expensive and worth plenty of money.
All vintage Disney items are valuable, but whenever Mickey Mouse is involved or featured, the overall value of the product increases even more. I found one of these vintage toys on eBay for less than $60, but the tiny play-doh coin maker is missing from the set. So, probably, that's why the price is lower.
Adult Nala Plush Toy from the Lion King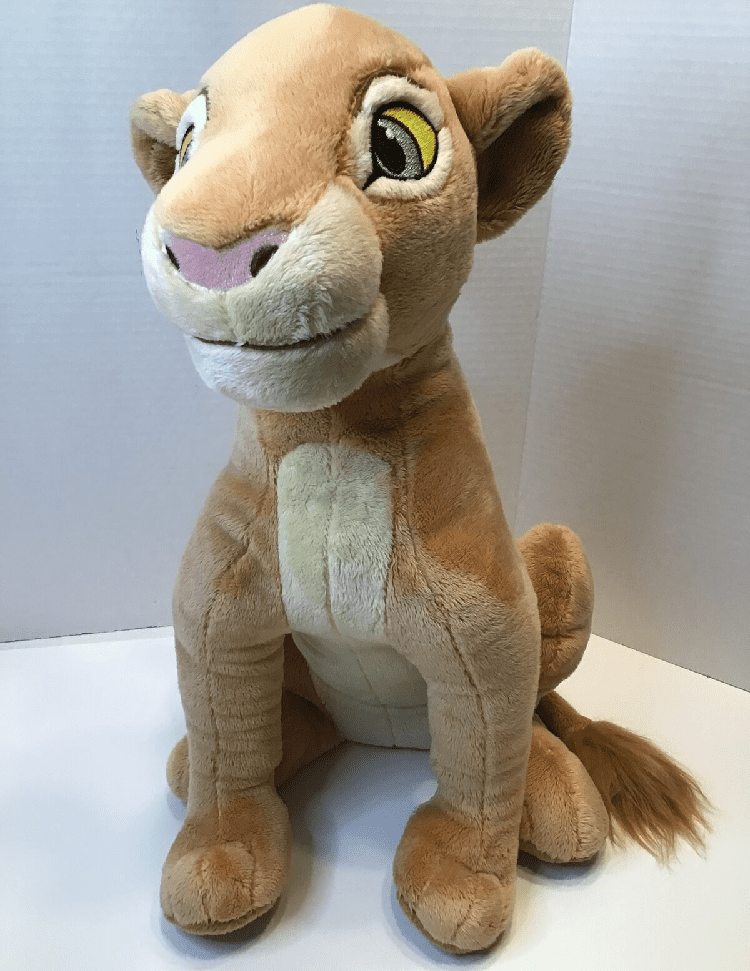 The Lion King was Disney's 32nd animated movie. Its release in 1994 was a huge success that eventually became a significant cultural phenomenon. After the film, all Lion King merchandise sold like crazy. Among the most coveted vintage Disney toys, there's this plush item that features adult Nala. One of these items that measured 15 inches was sold online for over 100 bucks.
However, I was able to find an Adult Nala plush toy that's more affordable than the one I've mentioned above. That's perhaps because the product's state is used instead of new or unused.
Toy Story Woody Doll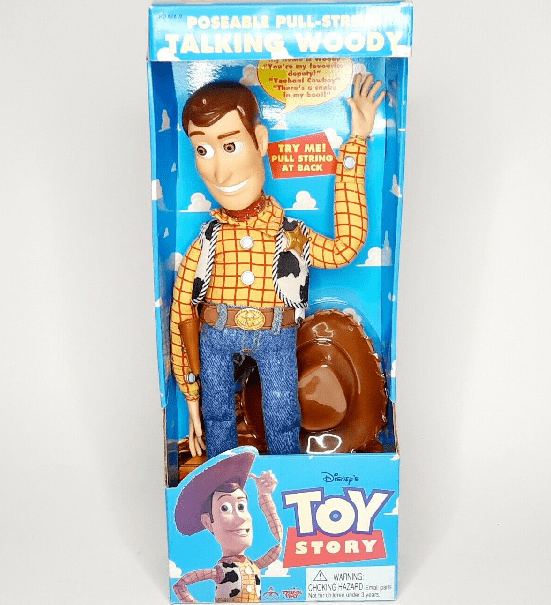 This Woody doll was sold online for $300. The movie was a computer-animated film, launched in 1995, and it still is one of the animations kids from all over the world love to this day. Due to the original film's huge success, Disney created several sequels. All the movie's characters are now members of pop culture. Both Sherriff Woody and Buzz Lightyear were the main stars of the series.
Woody's voice was provided by the famous actor Tom Hanks, whom I love greatly due to his good nature and modest personality. The doll that was sold for 300 dollars was brand new, unwrapped, and unused. But I've managed to find a more affordable one, and it costs $199.
The Best Modern Disney Toys
Here are some of the best modern Disney toys that your child will certainly love having and playing with.
Baby Yoda Plush Toy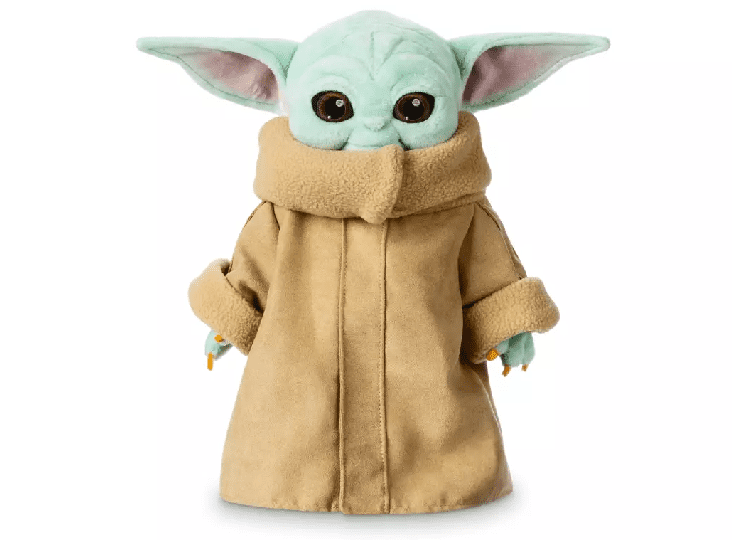 If your child is a Star Wars fan, then this plush toy featuring baby Yoda will quickly become his or her cuddling buddy. This fluffy toy is made of very soft materials and comes with a tiny coat made of faux suede.
It's also squeezable and baby-safe. You won't have to worry that your little one might swallow a piece of this toy since the only accessory is the coat, and the eyes aren't placed inside as plastic balls. Instead, they're embroidered on, which was a brilliant move.
Doc McStuffins Singing Doll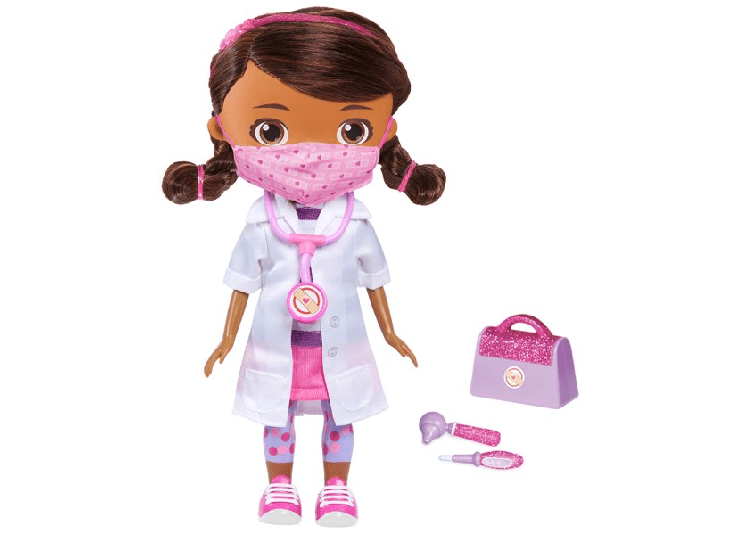 This singing doll teaches your kids the proper way to wash their hands, and she comes from the cartoons with the same name that are shown on the Disney Junior TV channel. The doll comes with several exciting and educational accessories, including a face mask, a doctor's bag, an otoscope, a toy stethoscope, and a thermometer. It's suitable for children who're at least three years old.
This toy is affordable and easy to clean, but it might represent a choking hazard for young kids under the age of 3.
Arendelle Castle Play Set from Frozen 2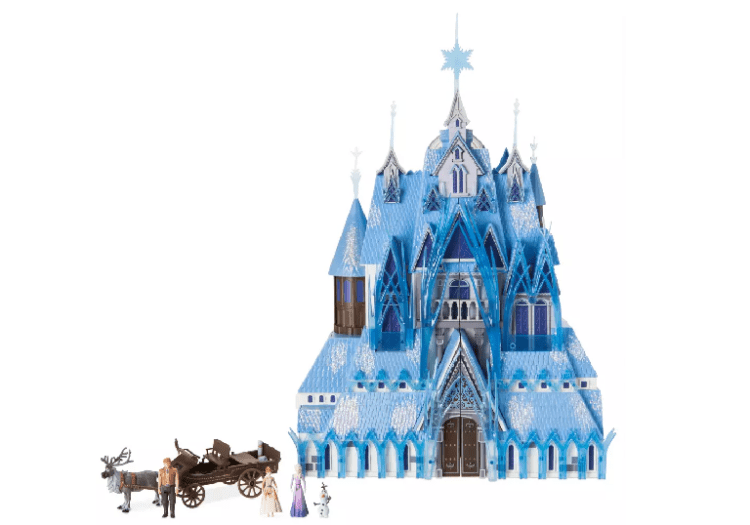 After seeing this unique toy, I must confess that I want to play with it, and I am 32 years old. So, I imagine a child would be impressed and fascinated with this Frozen toy featuring the Arendelle Castle. Of course, it's more expensive than other toys, but it's worth it. The inside is a tiny replica of the castle shown in the animated movie.
It's incredible how many details and pieces this toy comes with. Your child will be able to open the castle to discover all the rooms featured inside. The playset consists of the main movie characters, including Anna, Elsa, Sven, Olaf, and Kristoff. It has beds, a chest, a statue, a throne, one dining table with a couple of chairs, and more.
Mickey and Minnie LEGO DUPLO Set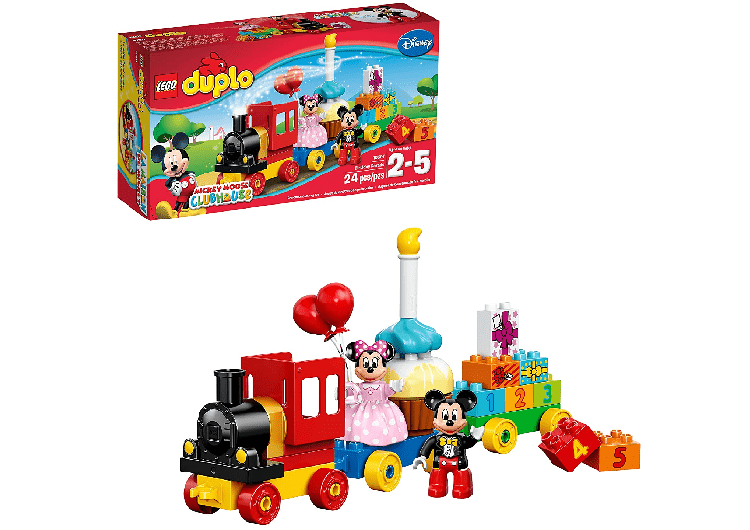 LEGO has marketed this cute DUPLO set featuring the characters from the Mickey Mouse Clubhouse. It's called the Birthday Parade, and all kids will be so happy to receive and have fun with it.
There are two small figurines of Mickey and Minnie, both of which can ride the LEGO train. Besides these elements, the set also comes with other fun pieces such as balloons, a buildable cake, one candle, and a few bricks with gifts illustrations on them.
This LEGO set contains 24 different pieces, and it's suitable for children aged two to five years old.
Sisters Musical Snow Wand from Frozen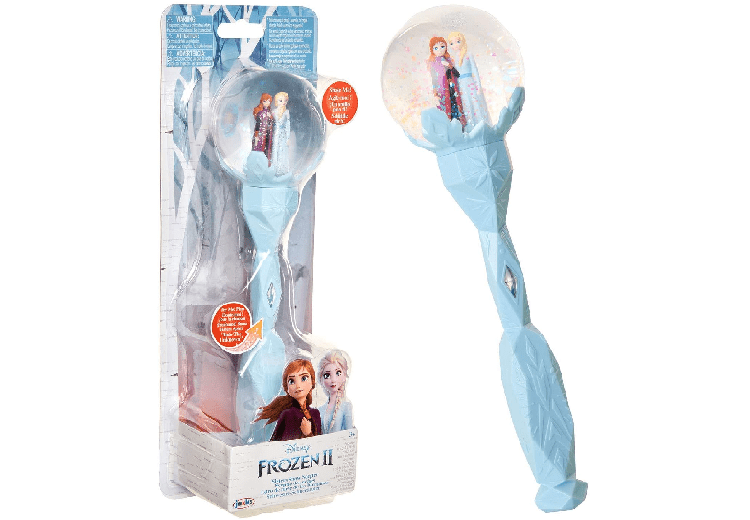 Many little girls love Frozen's sisters, Elsa and Anna. Our friends have a 6-year-old daughter who still wears her Elsa dress a lot and sings Into the Unknown. The same song is played by this musical snow wand inspired by Frozen 2. The scepter has a transparent globe at the top. Inside there are two figurines that feature the two famous Frozen sisters.
If you shake the wand, Anna and Elsa will be surrounded by glittering snow flurries. You can use this toy as a prop item when you're telling your child her bedtime story. Or, she can play with it as an accessory to her Elsa costume. The toy is suitable for children over the age of three years old.
Best Overall
Here's a list of the overall best Disney toys you should consider buying for your children (or, why not, for yourself).
Rose Gold Minnie Mouse Costume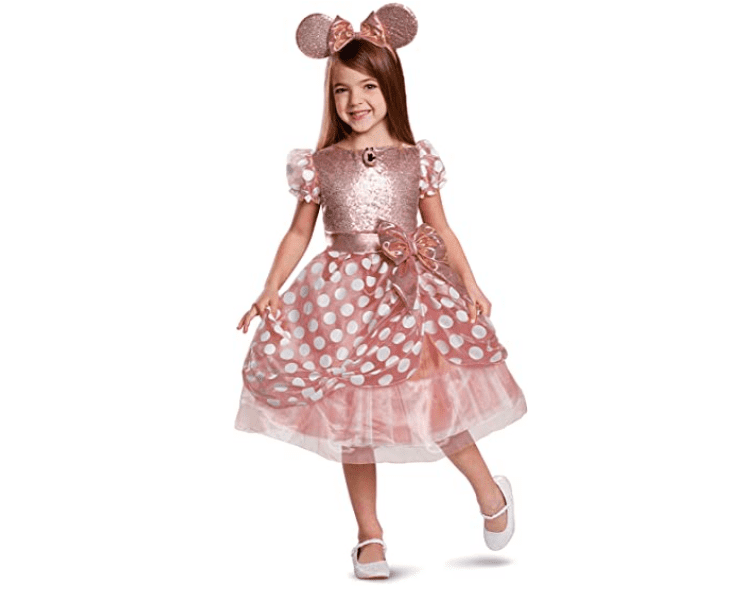 This Minnie Mouse girl costume looks absolutely amazing and luxurious. Your little one will look just like a Disney princess with this puffy elegant dress with polka dots. The dress is accessorized with a cute Minnie headband with ears and a pink bow. Over the skirt, there's a peplum part covered in polka dots. The short sleeves are also dotted, while the bodice features glittery sequins.
Around the collar, in the front part of the dress, there's a little fancy brooch with a subtle Minnie Mouse illustration. However, my personal opinion is that the fabric could be better. I consider cotton dresses more suitable, especially for kids, compared to polyester clothes. Just make sure you wash it by hand to be on the safe side regarding the material.
I know this isn't really a toy, but your daughter will see it as one since I bet she will want to wear it all the time, especially during her playtime. The dress and the headband can also be worn at a friend's birthday party or when you go trick-or-treating on Halloween. These products will soon become essential elements of her play-pretend games.
Disney Handmade DIY Scrapbook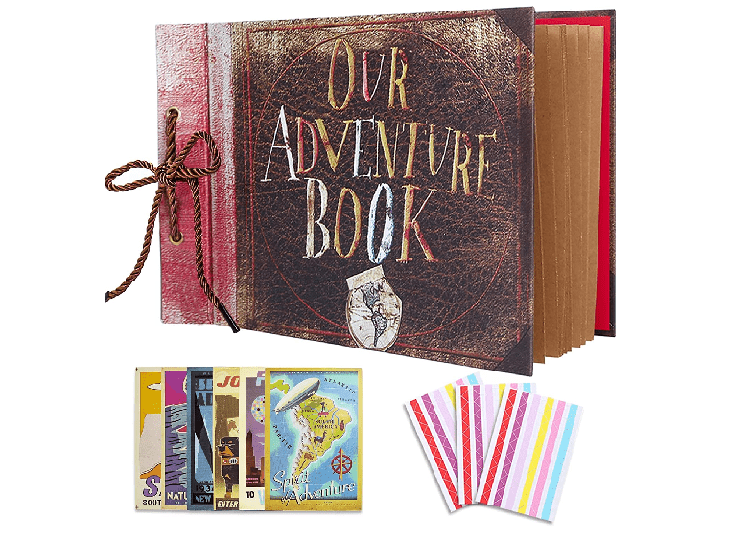 If you want something with a whimsical and heartfelt twist, you should consider purchasing this DIY scrapbook. It's designed similarly to the one Ellie, the character from the movie Up, had. On the hardcover are written the words Our Adventure Book. Not only will you offer a great gift to your child, but this will also be a reminder that the world can be full of beautiful adventures and rewarding experiences.
It has 80 pages that your little one can fill with his or her most precious photographs. According to over 1,000 online reviewers, this scrapbook is exquisitely crafted, sturdy, and the paper is thick. Besides the scrapbook, you will also get stickers, stencils, pens, and scissors.
Disney Olaf Waffle Maker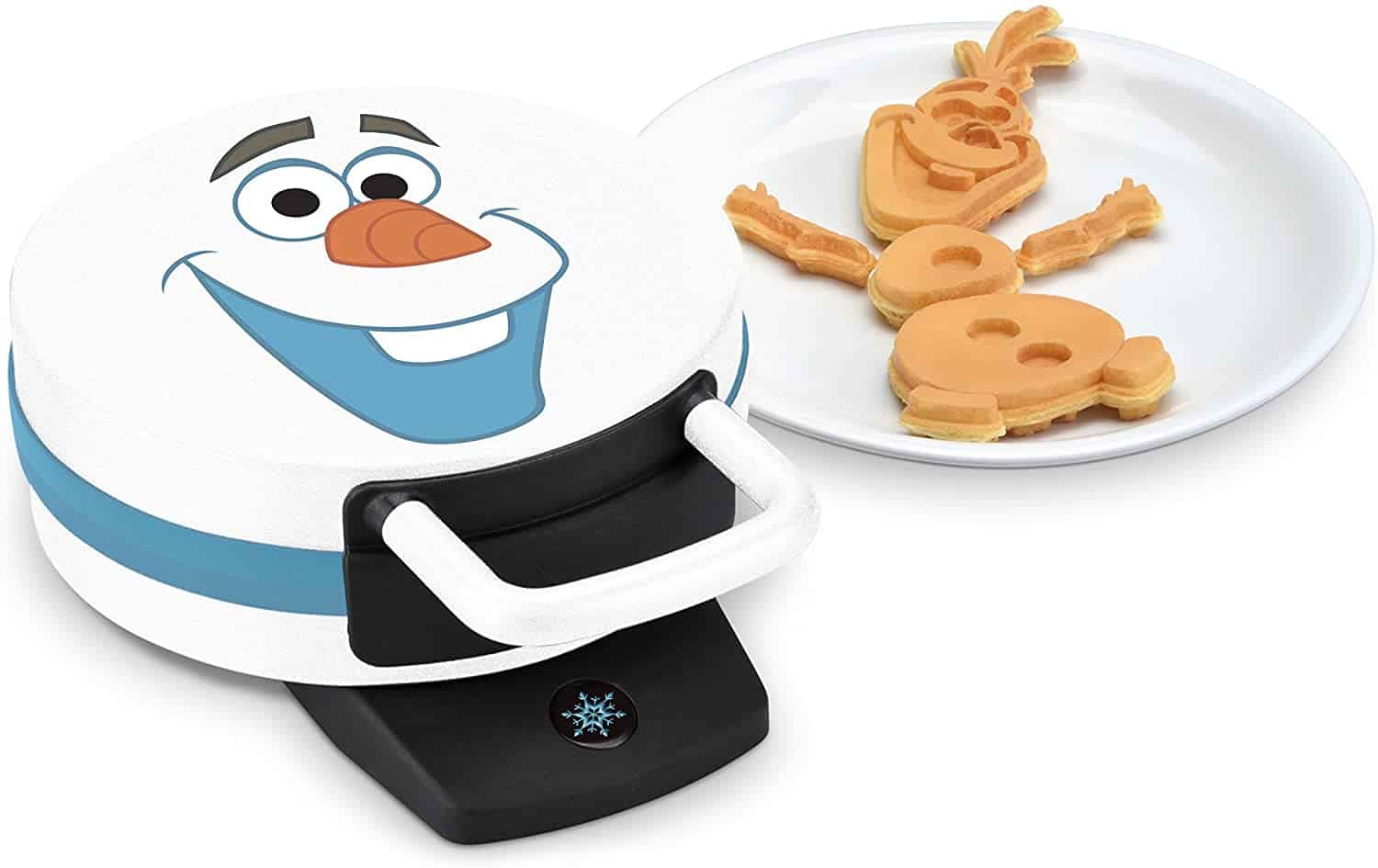 This Disney-inspired waffle maker will help you create the fun Frozen character, the snowman Olaf. It's pretty affordable, and it will make your kids so happy to see their favorite animated character at breakfast time. There are three available waffle makers, each creating a different shape:
The one that creates the entire body of the snowman;
A second one that only makes Olaf's face;
Another waffle maker that shapes a snowflake on a stick. 
This product has received outstanding reviews from numerous online users. My favorite version is the one that creates five shapes so that I can build Olaf's entire body. It's a compact item that's easy to store.
Disney Pop-Up Book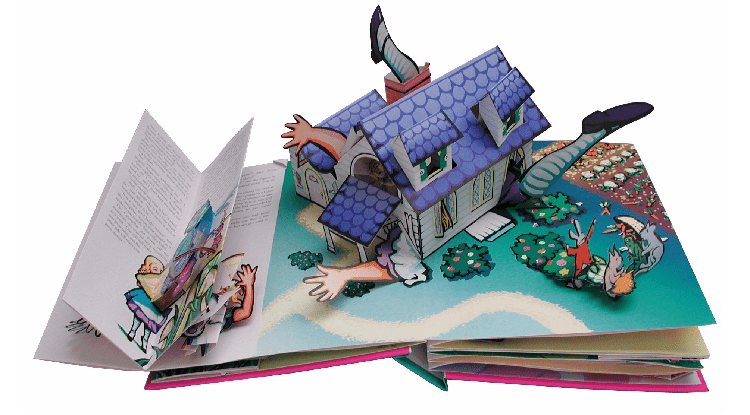 This fairytale pop-up book is so very cool and engaging. Your child will adore it. It features so many interesting and intricate details once you open it. Kids of all ages will fall in love with this pop-up book. Regardless of your little one's reading skills and level, this product represents an excellent idea for a gift.
It's the pop-up adaptation of the classic fairytale Alice in Wonderland. But the series also consists of other famous stories such as The Little Mermaid, Peter Pan, and others. This novelty book has multifaceted foils, a Victorian peep show, tactile elements, and other special effects.
The Best Disney Toys of All Time – FAQs
Question: What Are Some of the Best Limited-Edition Disney Toys?
Answer: Here are some of the most popular limited-edition Disney-inspired toys:
Designer collection Mulan doll;
Designer collection Ariel doll;
Black Panther figurine;
Agents of SHIELD by Marvel posters. 
Question: What Is the Best Selling Toy Inspired by Disney?
Answer: According to Disney, their best-selling toy ever is Buzz, from the Toy Story movie. Kids all over the planet love both the film and its characters, so the fact that the animation's astronaut is a toy numerous kids prefer is no surprise whatsoever.
Question: Who's Manufacturing the Disney Toys?
Answer: The manufacturing company for both Marvel and Disney toys is called Hasbro. This toymaker has renewed its license to continue to create these items. They've had a long and fruitful business relationship with Disney.
Question: How Many Princess Dolls Has Disney Made?
Answer: There are 12 Disney princess dolls:
Snow White;
Ariel;
Jasmine;
Mulan;
Cinderella;
Belle;
Pocahontas;
Aurora;
Rapunzel;
Moana;
Tiana;
Merida. 
The Best Disney Toys of All Time – Bottom Line
There are so many wonderful Disney toys available that it can be pretty hard to find the one that your kid will love the most. If your child is like any other child on the planet, they will undoubtedly want plenty of Disney toys, if not all of them.
Ask yourself about your kid's interests and hobbies. If your son is a fan of Star Wars, then go ahead and offer him a LEGO Star Wars-themed set. If your daughter loves Little Mermaid, then you should probably buy something related to that story.
You can even purchase and keep Disney toys for adults, for yourself, such as vintage collectibles and limited-edition items. But those are so valuable and expensive that they should only be displayed somewhere around the house. Furthermore, they're not really made to play with since you risk damaging the product.
I would personally choose Frozen-themed toys for my two nieces, while, for myself, I would opt for Ariel collectibles.
Continue reading:
The Best Mermaid Themed Toys to Consider for Your Little One
The Best Princess Toys for Various Ages