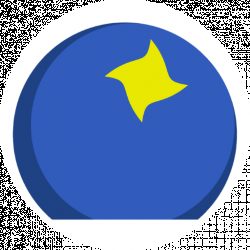 Latest posts by Avid Toy Insider Team
(see all)
I'm a big fan of Sesame Street, and when I was a child, I'd watch it every day while eating breakfast. Of course, I had Cookie Monster toys, while my sister had Elmo.
Sesame Street is one of the most educational shows for your children. They can learn counting, numbers, shapes, and more! It even teaches children about empathy for others.
If your child is a fan of Elmo, then they'll want some toys for him. There are various options, including educational opportunities!
I studied Education in college and volunteered and worked in an Elementary School, High School, Daycare, and Preschool. This best Elmo toys guide will help you pick out the perfect option for your child. Read this guide, and you'll have a better idea of some of the best options out there!
Bottom Line Up Front
There are various options to choose from! If I had to pick a favorite, though, it'd have to be the Sesame Street On The Go Letters & Numbers. I love how it offers you a two-pack for your little one to learn their numbers and the alphabet. 
Help your child get ready for preschool with this fun option. It's super convenient, too, since you can pack the items up, close the case, and carry it. Even your child can take it with them!
Children will love placing and removing the different numbers and letters. They'll be able to practice and remember each option.
Selection Criteria
As I'm going through this list, being in the educational field for so long, I understand the importance of various toys. However, while one might think they have to get education-specific toys, that's not the case.
Children can learn through play since they're using their imagination. When you play with your children, you're helping them increase their social skills. Many of these toys can be played with their friends or alone!
I've also included educational options. They'll help your children get ready for preschool since numbers, letters, and more are the focus.
How To Pick Out the Right Elmo Toy?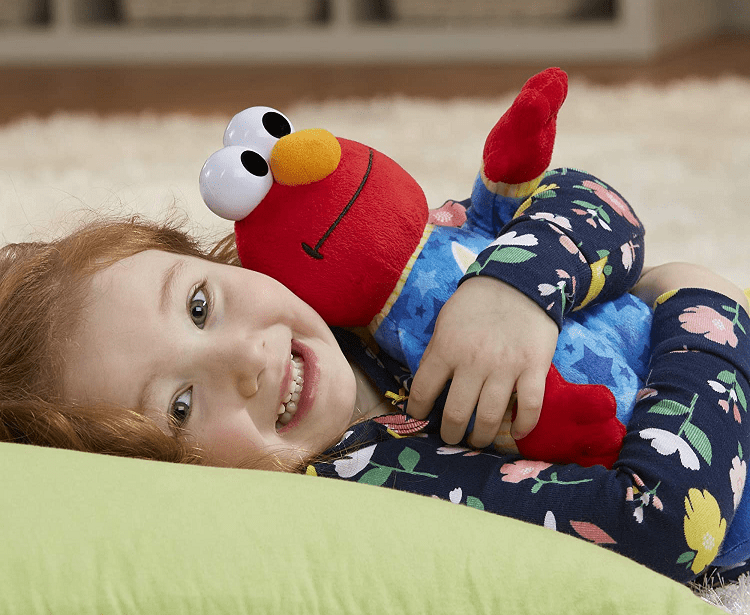 First, decide on your child's age. Also, are they neurotypical, or do they have certain delays?
If they have delays, you might consider toys for younger age groups. Remember that age ranges are more for safety and guides but not absolute.
Next, think about what you want your child to practice or enjoy. Whether you'd like for them to have a snuggly and huggable Elmo or an Elmo who teaches them to brush their teeth or count.
Brushing teeth can be a frustrating experience for some, and I've included him to help your little one encourage it. Also, suppose your child is struggling with learning the alphabet. In that case, an Elmo toy that focuses on that could be beneficial.
Consider checking out the singing and dancing section for children who love music!
Where To Buy Elmo Toys?
You can check in person at your local retail stores. Online might have more of a selection, though.
There are always filter options as well. For example, if you want a toy with specific reviews, you can have that option.
I recommend Amazon and Walmart. Target has a few options but not as many as them.
They both have shipping options, same with Target. I do enjoy how Target has a rewards program, though.
If you join Amazon Prime, it's super quick! In addition, you'll receive free shipping on Prime items which is pretty nice.
My Top Picks at a Glance
Learning Time
Whether you'd like your child to learn the alphabet or numbers, these toys encourage this!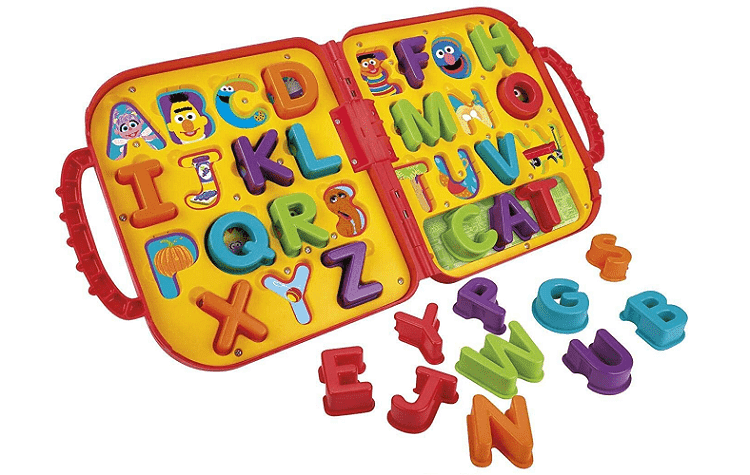 Perfect for a child who is just learning the alphabet or looking for a refresher, this toy makes learning the alphabet fun! I love how each letter has a Sesame Street character when you lift up a letter.
For example, B is for Bernie! Your child will have lots of fun remembering all of their favorite characters while learning letters.
I love how convenient it is, too, since your little one can pack up and carry the case around!
Your child can place each letter back into the appropriate spot to see if they remember each letter in the alphabet and where it goes!
Great for children between the ages of two to four years old.
Pros
A fun activity for children to learn the alphabet!

Even comes with images of Sesame Street characters corresponding to the first letter in their name.
Cons
It's not interactive since there's no sound.
Magna-Tiles Sesame Street – Colors with Elmo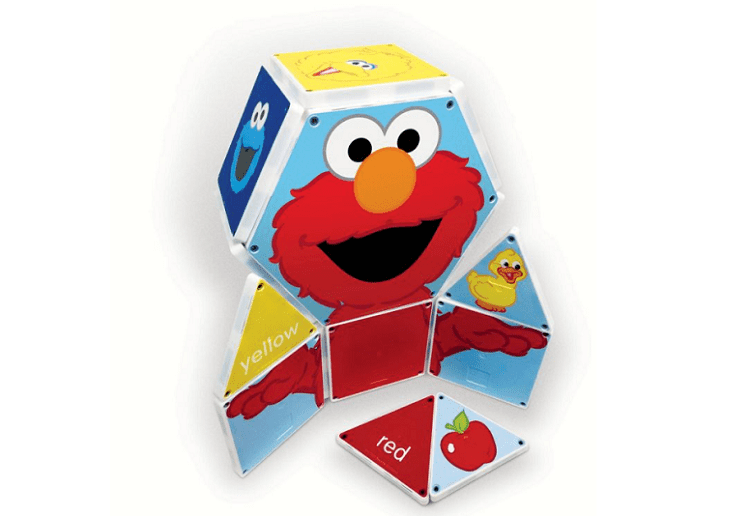 While your little one is busy learning the alphabet, shapes, and colors, make learning time fun! They'll be able to understand the different colors and identify them.
It comes with ten 3 inch square tiles and six equilateral triangle tiles for your child to place together.
Pros
Your little one can practice learning their colors!

Unique and tons of fun
Cons
Once children learn their colors, they might become bored of this.
Playskool Sesame Street Singing ABC's Elmo, Red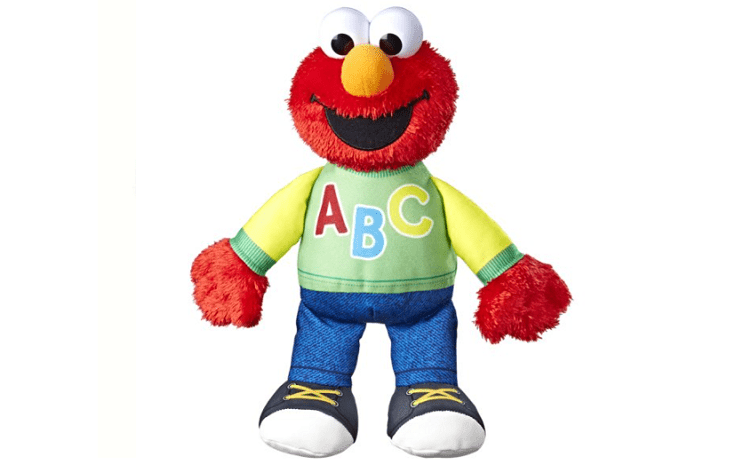 Elmo is super cute and ready to go on an adventure with your little one or hang out around the house. Not only can they sing along with him, but they can learn the alphabet!
It's great for children between eighteen months and four years. When you press his belly, he will sing the alphabet song or say fun phrases. Encourage your child to sing and dance along with Elmo while they're having fun learning the alphabet!
Pros
A great toy to learn the alphabet

Sings the alphabet and says different phrases

Great for eighteen months and four years
Cons
Sesame Street On The Go Letters & Numbers with Elmo & Cookie Monster, 2 Take Along Cases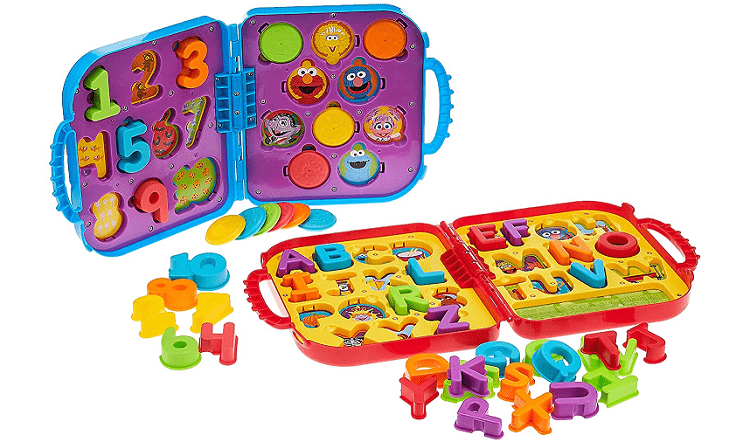 It's like the toy above where your child can learn letters, except it comes as a two-pack! Children can learn the alphabet and numbers.
Have your child practice learning numbers and the alphabet as they remove and place each piece. It's convenient for on the go since you can pick it up and carry it to various places since it's a box with a handle.
Pros
Stimulate your child's learning potential for numbers and letters

A two-pack

Easy to carry
Cons
Since it's a lot of pieces, it might be a lot to clean up.
Dance With Elmo
Musical expression is just as crucial for your child to learn as any other toy! This section will have musical options with Elmo.
Sesame Street Musical Plush – Elmo And Smartie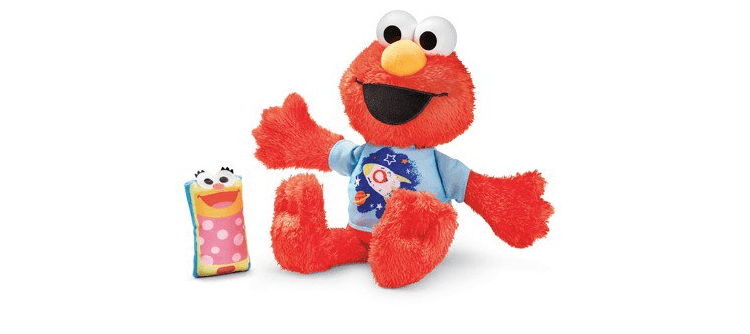 Sing along with Elmo as he sings Elmo's World Song. He even says some of his popular phrases along the way.
Your child can have fun playing with Elmo, too, since he comes with the plush Smartie as well.
It's perfect for those who are at least eighteen months old.
Pros
He comes with Smartie the plush!

When you squeeze his belly, he sings Elmo's World.

Great for children eighteen months and up
Cons
He only plays that one song, no other songs.
Unique Options
This section will be more unique options that you might not think about for Elmo. In addition, this section offers more unique options, from brushing teeth to dancing around.
Sesame Street Brushy Brush Elmo, Plush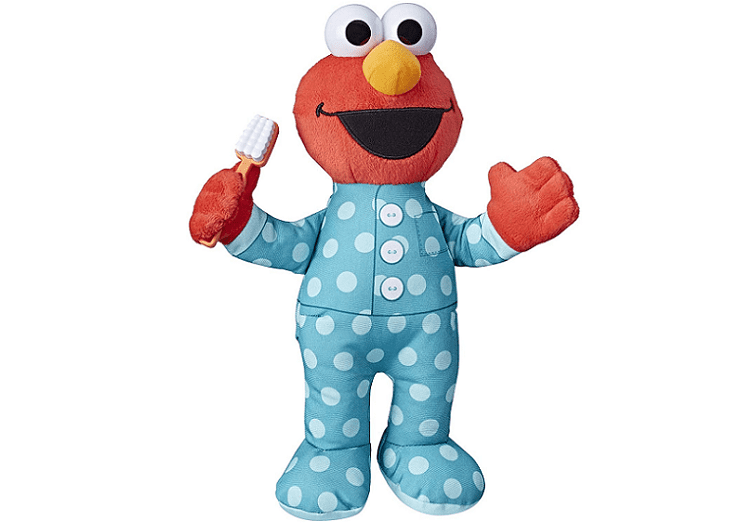 Encourage your little ones to brush their teeth with this fun Elmo toy! In addition, Elmo will encourage them to play, sing, and brush.
Tooth brushing can be a challenge to get some kids to do. That's why when it's time for brushing, Elmo is sure to make it more fun! It's perfect for children at least eighteen months and older.
Pros
Encourages healthy brushing

Sings

Your child can brush Elmo's teeth
Cons
He doesn't sing anything else besides the Brushy Brush song.
Gund Animated Happy Birthday Elmo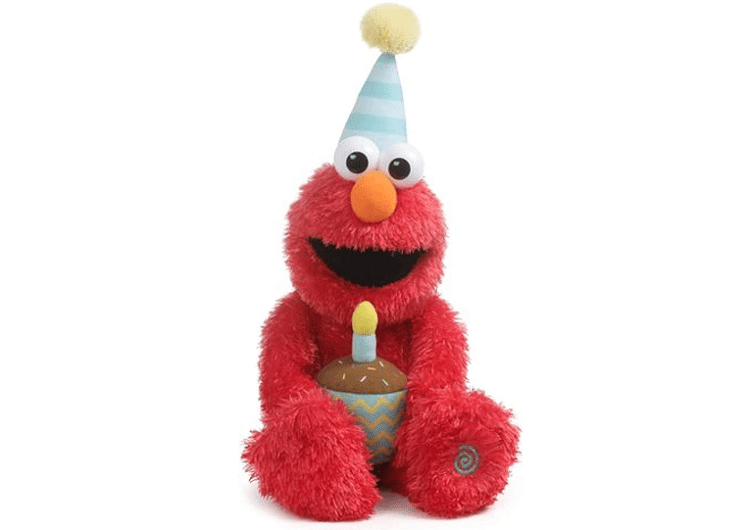 Celebrate your little one's birthday with this adorable Elmo! He comes with a party hat and cupcake. The cupcake even has a candle for your child to pretend to blow out.
He makes an excellent gift for their day! Press him, and he sings happy birthday while his mouth and body move too.
Pros
Celebrate your little one's birthday

Sings happy birthday

Mouth and body moves

Unique
Cons
Besides birthdays he doesn't match other holidays.
Playskool Sesame Street Lullaby & Good Night Elmo, Brown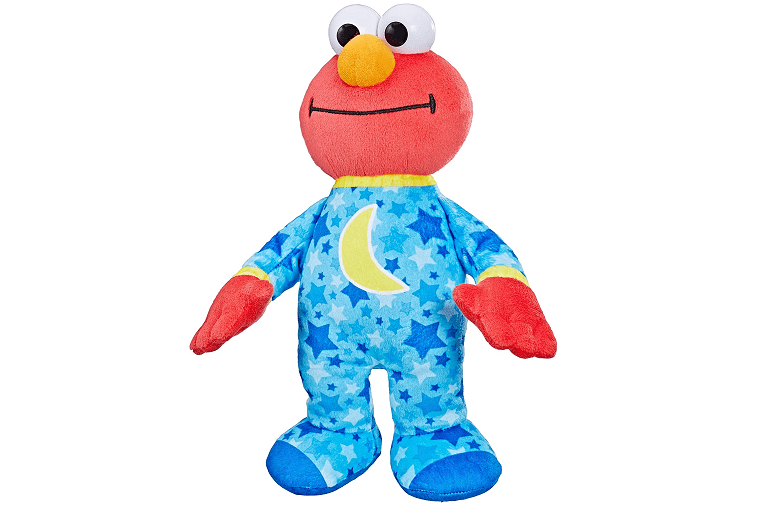 Getting your child to nap or go to sleep can be a challenge! You might finally get them to sleep, and when they hear something, they wake right up.
Make nighttime less of a challenge with this soft and cuddly Elmo toy. Remind your little one that Elmo is ready for bed, so they should be too!
He even sings a lullaby to help your child fall asleep. Whether your child speaks English or Spanish, he comes in either mode.
Pros
An excellent toy for bedtime!

Sings a lullaby

Super soft and cuddly

Children can play during the day and pretend that Elmo is going to sleep
Cons
Playtime With Elmo
Play is an excellent way for children to learn too! When they play, they're using their imagination which encourages growth and learning. This section has fun Elmo toys that are great for cuddles and playtime.
Sesame Street Little Laughs Tickle Me, Elmo, Talking, Laughing Plush Toy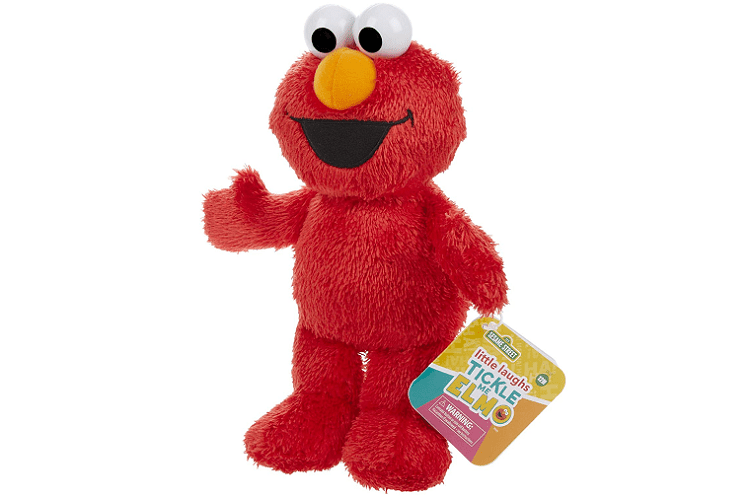 Have your little one practice talking with this fun Elmo toy! He laughs and says six different phrases.
He's great for children at least twelve months and up. Of course, your little one will love carrying him around since he's about twelve inches. Reminds me a lot of the classic Tickle Me Elmo that we had when we were kids!
Pros
Easy to carry around since he's twelve inches

Six different phrases and laughs

Encourages play and imagination
Cons
Children might become bored of the six phrases after a while
Sesame Street Love to Hug Elmo Talking, Singing, Hugging Plush Toy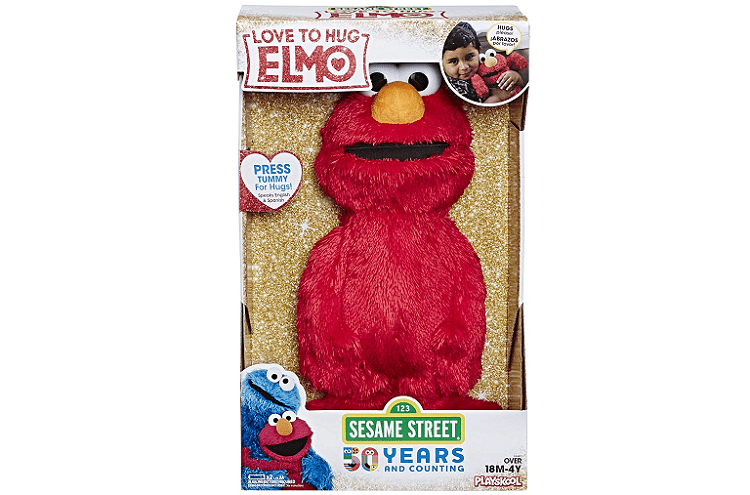 Your child will love giving Elmo lots of hugs with this toy! He loves to receive and give hugs. He hugs, sings, and talks!
Have children practice their vocabulary as they talk with Elmo. He is an excellent option for learning multiple languages since he speaks Spanish and English.
Perfect for children who are at least eighteen months old.
Pros
Great for hugs and chatting

He sings

Super cuddly
Cons
His body is of a thinner material.
For Little Ones
Babies deserve fun Elmo toys too! This section is all about babies and younger ones who aren't ready for the larger toys.
Bright Starts Sesame Street Tummy Time Prop & Play Activity Mat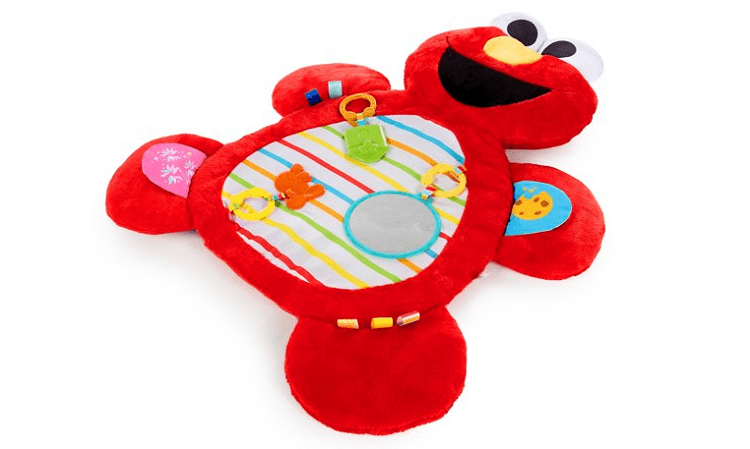 Any doctor will tell you how important tummy time is for your baby. So make tummy time fun with this cutie!
He even has little toys for your child to grab and play with. The toys are detachable to remove for a safer experience for babies.
Pros
An excellent toy for tummy time

Comes with attached toys
Cons
Bright Starts Sesame Street Snuggles with Elmo Security Blanket
A soft toy for your baby to cuddle, hold, and babble at. Elmo can become your child's new favorite blanket!
Overall, the toy is soft to the touch and provides a calming experience for your little one. The colors are even bright and engaging for your little one. In addition, it has little flaps on it for your child to play with.
Pros
Soft and soothing material

Little flaps for them to grab and play with

Elmo-themed!
Cons
FAQs
Question: What is the Best Elmo Toy?
Answer: Seasame Street Talking ABC Elmo is one of the best! This comes down to personal preference, though.
Question: Do they Still Make Tickle Me, Elmo?
Answer: Yes!
Question: What Does Talking Elmo Say?
Answer: Oh boy, that tickles, and more.
Exploring the Best Elmo Toys Guide
After exploring the best Elmo toys guide, I hope you have a better idea of some top options. Remember that you know your child best, so you will pick out the right option for them.
Think about their age range, what they need to work on, and what they enjoy. If I had to choose a favorite, it'd still be the two-pack of the Sesame Street On The Go Letters & Numbers. 
Find more incredible toys by readings these guides below:
10 Best Daniel Tiger Toys that Your Child Will Love!
Best Little People Toys Guide for Tiny Fans